photo by
naylandblake



Some of my LJ friends are out in San Francisco, and most of you probably remember my friend
naylandblake, who used to be here but is now mostly found on twitter, flickr, and tumblr.

Nayland's having a big show at Yerba Buena Center for the Arts. The opening night party will be 8 pm - midnight on Friday, October 12 -- I love that the party will be a mash-up by both artists showing at the museum -- and the show continues through January 27.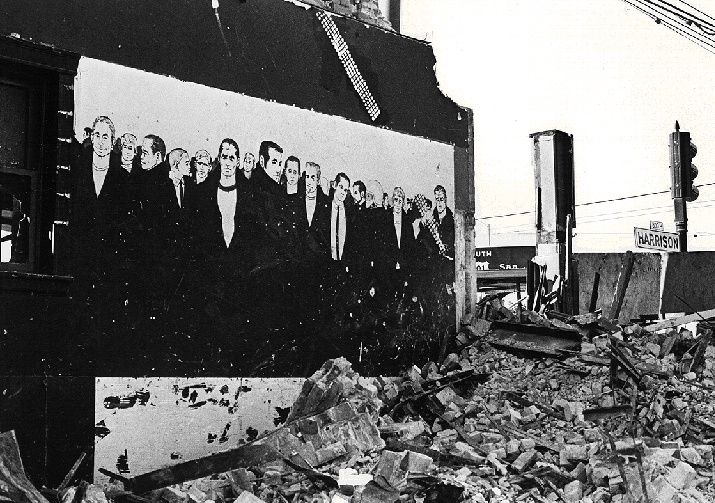 I haven't gotten Nayland to talk much about what his FREE!LOVE!TOOL!BOX! show will be "about" (which is always open to interpretation anyhow when it comes to contemporary art), but in part it will reference the cultural changes in the gentrification of San Francisco's South of Market neighborhood, including the Chuck Arnett mural of leatherman from the old Tool Box leather bar that remained exposed to all the incoming traffic coming off the Bay Bridge for a couple of years during the neighborhood's reconstruction. This is the same mural that was prominently featured in the groundbreaking Life magazine article about homosexuality published in 1964, which is now credited with encouraging more gay men to move to San Francisco! So it would be totally appropriate to wear leather to make the scene at the opening party -- I would if I was able to attend.

During the exhibition there will be all sorts of special events, guest speakers, authors, performers, and musicians, including Gayle Rubin, talking about the leather bars that once populated the South of Market area the Yerba Buena Center now resides in, Matt Wobensmith of
goteblud, talking about the punk scene in San Francisco, The Sisters of Perpetual Indulgence along with D-L Alvarez (here on LJ as
god_jr), giving Nayland a makeover, and a piercing performance with Lolita Wolf, here on LJ as
lolitasir.

For those of you who aren't in or won't be visiting San Francisco this fall, here's Nayland's tumblr, which he has filled with inspiration and touchstones for FREE!LOVE!TOOL!BOX!: http://free1love1tool1box.tumblr.com/, where this image is taken from.


The Tool Box, 1962-1971