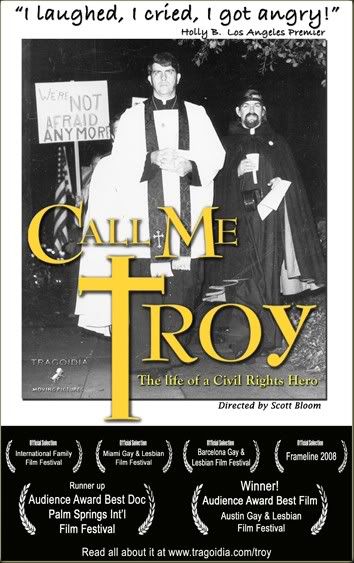 There was a lot of good stuff at this year's Cinekink Film Festival, where I served on the jury (along with
viviane212, sex blogger extraordinaire, and Bill Woods, an independent film curator) to select the best shorts. It was a strong year for Cinekink -- I think it had its best slate of films ever, both in quantity and quality. Mere fractions of points separated the winning films from a good number of runners-up. I also had a blast sitting and hanging with the cool kids,
lolitasir and Phil/
boymeat, who I think attended even more of the screenings than I did.

The two best feature films I saw this year were Shortbus and Call Me Troy. Troy is a documentary by Scott Bloom about Troy Perry, founder of the MCC churches and eminent gay activist (he spearheaded the very first Gay and Lesbian March on Washington in 1979, y'all)*. It was exceptionally well produced considering the vast amount of source material, archival footage, and interviews expertly condensed and brought together. In my mind Call Me Troy, along with Bloom's first documentary, Original Pride, are as good as the documentaries Common Threads: Stories from the Quilt and The Times of Harvey Milk (both Academy Award winners), and the fact that they're about lesser-known but still vital aspects of gay liberation and identity makes them all the more important for viewing. I highly recommended Call Me Troy if you get the chance to see it (check in here for information on screenings), or once (if?) it becomes available for purchase.

Other personal favorites from the festival were the short subjects Office Mobius, a seamless office roundelay so dazzling you want to watch it over and over, and the mad Who's the Top? by Jennie Livingston (acclaimed director of Paris is Burning), true to its billing as an "S/M musical comedy," which was named Cinekink's Best Narrative Short. See
cinekink for a list of all the winners if
lisavnyc can post it before she jets down to Austin for the SxSW Festival.

I'm a big fan of film festivals because there is a great deal of film out there which, believe it or not, you will rarely and sometimes never get other opportunities to see, movies and shorts and animation and stories, experiences, and entertainments that are just as good if not better than movies playing in 3,284 theaters nationwide, simply because some bean-counting, bottom-line suit doesn't think it would appeal to a wide audience, which because of the way movies are distributed and marketed these days, becomes a self-fulfilling decision that ignores and marginalizes personal visions, subcultures, and entire communities. This is even more true for Cinekink, where because of graphic sexual content, many of its films will never be available from Netflix, YouTube, or the scores of other online film websites, no matter how "alternative" they purport to be.



*Note: Troy Perry and his partner of many years, Phillip De Blieck, are two of the plaintiffs in the lawsuit against the State of California to have their marriage fully recognized by the State. They prevailed at the Superior court level, the State appealed, and arguments are being heard TODAY by the California Supreme Court, in what is being called "the most momentous case the court has heard in decades." Best wishes to all my friends out there, and may wisdom and justice prevail again.