mudcub
was up last weekend for a "Christmas in New York" weekend. He was struck by the
CURSE OF THE MEGABUS
again, though, as the Pennsylvania and New Jersey turnpikes turned into parking lots
Friday night
when everyone hit the road early trying to get someplace before the big storm hit on Saturday. So he missed the special screening of Jacques Tati's
Play Time
that Ed/
tycho_anomaly
and I took in at
MoMA
, but at least was able to join us for a late dinner of BBQ'd lamb ribs, roast duck and moo shu duck, duck fried rice, and
crispy french fried spinach
at
China Grill
afterwards. mud and I then went out for a late night stroll to see the holiday lights, decorations, and windows, but it was so late they had turned out the lights on the big tree at
Rockefeller Center
!
Saturday
, after a nice breakfast at my favorite new diner (thanks, Brian/
wonderboynj
!), we piled into a taxi with Ed and his partner Jeff/
hammerride
and headed out to Brooklyn for
an afternoon of poker & cigars
at
naylandblake
's just as the snow started falling (
arrival photo here
), joined by our friends Scott R. and Scott H./
sirpupnyc
, the latter who was once again "The Big Weiner" of the night, although I came in a close second, pocketing $20 – apparently rubbing mud's heinie is indeed lucky! When not being rubbed, I had mud shining boots, fetching beers, and emptying ashtrays for the poker party. The party was also to say goodbye to our friends Ed and Jeff, who were returning to North Carolina after gracing our city for two semesters with Jeff teaching theater and media to some lucky students.
By the time we counted up the chips and cashed out, a good six inches of snow had accumulated (and it was still coming down), which we trudged back to the subway in. mud and I still had a late cabaret show in Times Square to get to, and it was blizzard conditions with the wind coming off the river whipping up the snow on 42nd Street! We were seeing
Jackie Beat
's annual Christmas Show
, who clearly would win the title of Filthiest Person Alive even against Dawn Davenport (you can see more of
Jackie Beat's work at YouTube
). Someone at poker thought the show would only be attended by her most hardcore fans because of the storm, but the large cabaret room was still totally packed, since her almost exclusively gay male audience only had to come from nearby Chelsea and Hell's Kitchen. And the blizzard was going even stronger when we exited after midnight, thankfully we were able to hail one of the few available cabs.
Sunday
we awoke to a frosted city, and I trudged out to get coffee, hot chocolate, and pastries for a
farewell breakfast with Jeff and Ed
. Then mud and I took off for a screening of
Avatar
in IMAX 3-D, getting there early to score great seats in the huge theater, back and center. I really enjoyed Cameron's technical achievements and bravura piece of storytelling, even though there were all sorts of quibbles I could make about it – and
did
make about it – here is what I posted to the
NYTimes
' Arts Blog:
As is usually the case, Avatar is another science fiction movie that tells us more about the shortsightedness and biases of our culture and the filmmakers than it ever hopes to speculate about alien species. How funny that they're bipedal much like us, and are ashamed of the same body parts, the only areas covered up with scraps of cloth! And the same heterocentrist pairing off of genders! And Neytiri shows no hesitation or confusion when Our White Male Hero leans in for the big smooch!

I also was amused that a film purporting to be pro-environment was made with nothing but show-off technology. I bet there wasn't a single potted plant on the virtual set!
After the show mud and I walked through the snow-covered
Central Park at night
, which was absolutely beautiful even if a little treacherous and scary at times.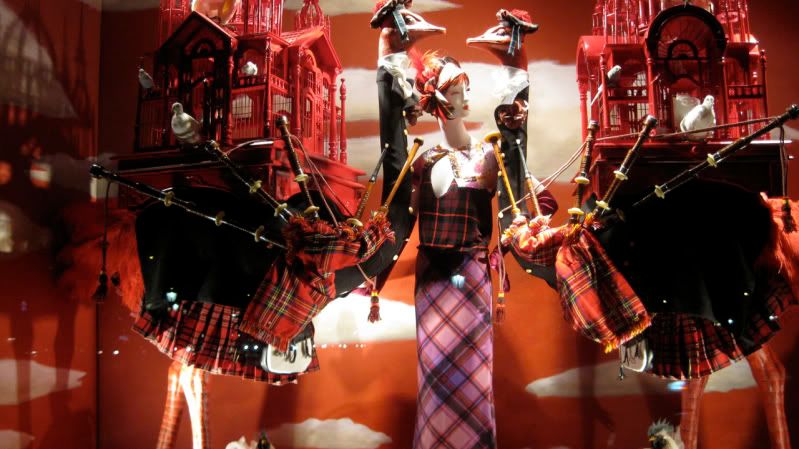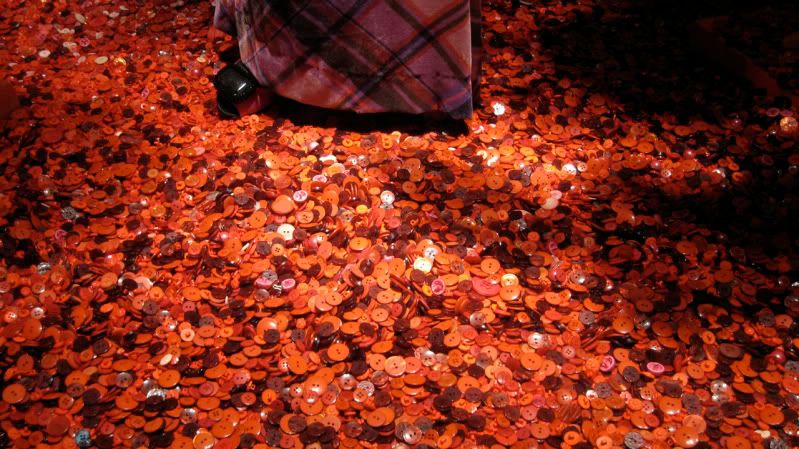 Exiting on the other side of the park, we walked around taking in more holiday windows (Bergdorf Goodman's
Fabulous Mr. Fox
, Alice, and otherwise always sumptuous displays showing off couture outfits for the
WIN
) and through the madness that was the
F.A.O. Schwartz toy store
, where mud visited the Make Your Own Muppet Workshop that made
his Muppet twin
.
After which we headed down Lexington to a warming dinner of very spicy south Indian vegetarian cuisine at
Saravanaas
. By then it was time to get back to the hotel to pick up mud's luggage and to catch his return bus, which was nearly empty with everyone having cancelled their trips for the weekend because of the storm.
OH NOZ!
mud never got back to Rockefeller Center to see the tree with its lights shining – we'll have to do this again next year!