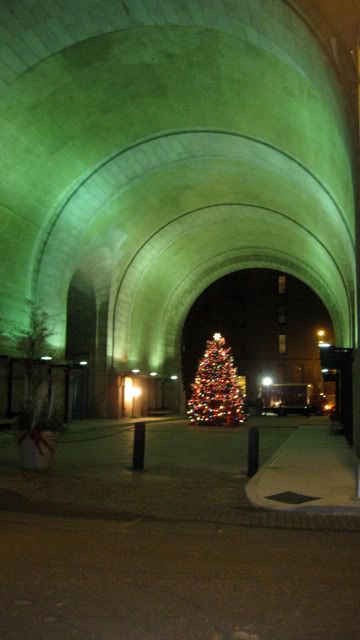 D U M B O T R E E
Like SoHo and TriBeCa, DUMBO is one of New York's neighborhoods that has been given an acronym: it stands for
D
own
U
nder the
M
anhattan
B
ridge
O
verpass. It's a trendy and pricey "frontier" neighborhood in Brooklyn, "frontier" since you put up with the noise from elevated subways and
two
bridges, and a tangle of infrastructure and traffic of the roads and ramps serving them. But if you're lucky (and rich) enough, you have
amazing
views of Manhattan and the bridges.
I was there last night to see a play at an avant-garde theater space called St. Ann's Warehouse, and to freeze my ass off! It's a 10-block walk to subways, with wind chills coming off the river last night in the single, and possibly subzero, digits (Fahrenheit).
It's hard to appreciate the scale here -- the tree is actually quite large, maybe 20 feet tall, and the vaulted overpass that's part of the bridge is fucking
ginormous
.