The gayest hot chocolate ever
So as many of you guessed about
Tuesday's photos
, last weekend I traveled down to
Baltimore
for a weekend with
mudcub
. It started out rocky for me with a bad case of food poisoning (although I didn't know it at the time), thankfully that passed by Saturday morning. We stayed at
Wilson House
, an incredibly gay gay
gay
bed and breakfast, a beautifully restored 40-room mansion built 120 years ago. Bedrooms and sitting rooms and parlor after parlor filled with period furniture and beautiful things from around the world. Although the proprietor and affable host was a handsomely bearded married Navy captain, he's probably metrosexual zero. There was a little problem with good water pressure and the size of the tub in our third floor bathroom, but otherwise I would highly recommend the place to anyone staying in Baltimore.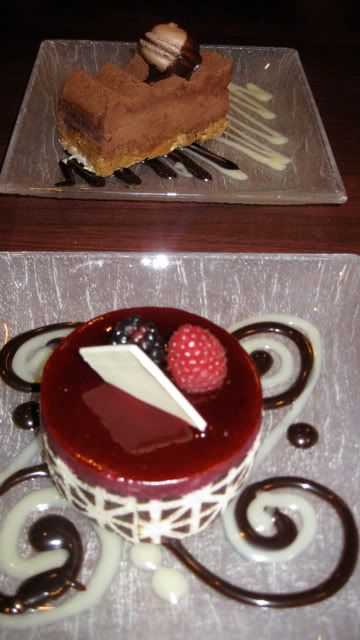 Gay desserts at a gay café in the gay neighborhood
I had only been to Baltimore once before, for a backyard crab boil (immortalized in
Saveur
magazine), and a couple drive-throughs on my way to/from D.C., to sample a couple of their other regional specialties, she-crab soup, and
Berger cookies
. On those visits I only saw the modest and older downtown neighborhoods as seen in John Waters' movies; on this visit in addition to the neighborhood we were staying in with its historic mansions, we saw their gay neighborhood, their arts center, and the harbor areas, all of which I was impressed by.
Fiercely gay
Saturday we attended "The 12 Days of Christmas," a Baltimore leather community holiday tradition, an annual benefit put on by "Hooker's Boys" and area leather clubs. It was a big old drag show with drag queen after drag queen (and most of them
big
girls) with names like Summer Clearenz and Ada Bouffé coming on for their number/s, covering everyone from Dolly to Cher to... wait for it... Minnie Pearl, collecting tips for charity. Minnie Pearl was impersonated by a black drag queen at that, but the cognitive dissonance award would have to be won by a group of belly dancers (some of them men in drag) dancing to The Archies' "Sugar, Sugar." I've never been to a classic drag show like this before, and as much as I enjoyed it, I can now cross that off my bucket list to do again.
Tragically gay, but with accessories to die for
Sunday we slept in late so we passed on the National Aquarium because it closed early
and
had an admission of $30, and for that kind of money we could have enjoyed
eating
a couple of fishes, not just looking at them. Next time. I did have crabcakes and crab soup, but have been indulging/resisting so many holiday sweets at work that I could actually forego picking up a box of their Berger cookies to bring back to the office.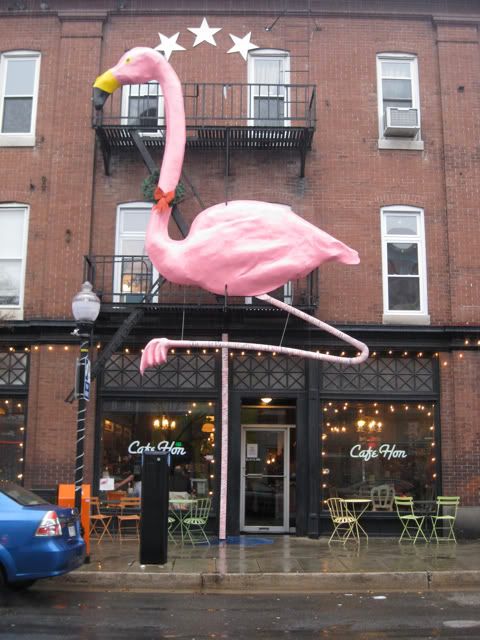 Yup, still gay
Instead, we explored the funky and twee shops of Baltimore's Hampden neighborhood, where we had a light brunch at Café Hon, and visited
Atomic Books
. I've been to a lot of subculture bookstores, but none beats Atomic for their comprehensive selection of books, magazines, zines, toys, designer figures, art, and DVDs, everything from adult manga and anime to Cthulhu shrines. We'll be back just for that shop, too.
We made the tourist area gayer
We walked through the cold and nearly deserted tourist area of the harbor, familiar Christmas tunes playing to empty sidewalks, as twilight fell and the lights of the harbor came up.