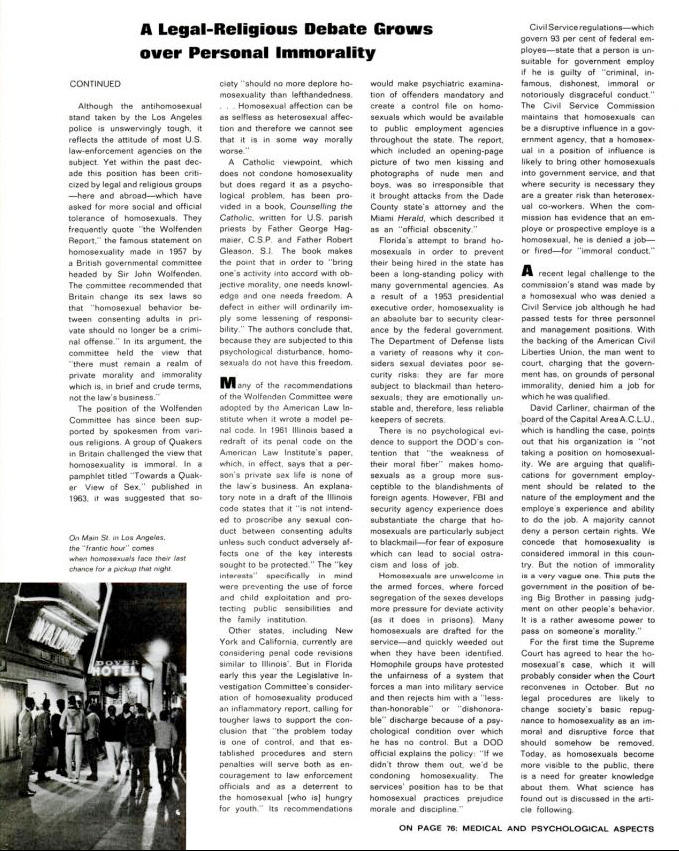 (
Collapse
)
(pink highlighting notes some of biased and sensationalistic words and reporting, as well some of the more maddening or outrageous historical details.)
Life magazine, June 26, 1964
HOMOSEXUALITY IN AMERICA
By Paul Welch
Photographed for LIFE by Bill Eppridge
A Legal-Religious Debate Grows over Personal Immorality
[CONTINUED FROM
HERE
]
Although the antihomosexual stand taken by the Los Angeles police is unswervingly tough, it reflects the attitude of most U.S. law-enforcement agencies on the subject. Yet within the past decade this position has been criticized by legal and religious groups -- here and abroad -- which have asked for more social and official tolerance of homosexuals. They frequently quote "the Wolfenden Report," the famous statement on homosexuality made in 1957 by a British governmental committee headed by Sir John Wolfenden. The committee recommended that Britain change its sex laws so that "homosexual behavior between consenting adults in private should no longer be a criminal offense." In its argument, the committee held the view that "there must remain a realm of private morality and immorality which is, in brief and crude terms, not the law's business."
The position of the Wolfenden Committee has since been supported by spokesmen from various religions. A group of Quakers in Britain challenged the view that homosexuality is immoral. In a pamphlet titled "Towards a Quaker View of Sex," published in 1963, it was suggested that society "should no more deplore homosexuality than lefthandedness…. Homosexual affection can be as selfless as heterosexual affection and therefore we cannot see that it is in some way morally worse."
A Catholic viewpoint, which does not condone homosexuality but does regard it as a psychological problem, has been provided in a book,
Counselling the Catholic
, written for U.S. parish priests by Father George Hagmaier, C.S.P. and Father Robert Gleason, S.I. The book makes the point that in order to "bring one's activity into accord with objective morality, one needs knowledge and one needs freedom. A defect in either will ordinarily imply some lessening of responsibility." The authors conclude that, because they are subjected to this psychological disturbance, homosexuals do not have this freedom.
Many of the recommendations of the Wolfenden Committee were adopted by the American Law Institute when it wrote a model penal code. In 1961 Illinois based a redraft of its penal code on the American Law Institute's paper, which, in effect, says that a person's private sex life is none of the law's business. An explanatory note in the draft of the Illinois code states that it "is not intended to proscribe any sexual conduct between consenting adults unless such conduct adversely affects one of the key interests sought to be protected." The "key interests" specifically in mind were preventing the use of force and child exploitation and protecting public sensibilities and the family institution.
Other states, including New York and California, currently are considering penal code revisions similar to Illinois'. But in Florida early this year the Legislative Investigation Committee's consideration of homosexuality produced an inflammatory report, calling for tougher laws to support the conclusion that "the problem today is one of control, and that established procedures and stern penalties will serve both as encouragement to law enforcement officials and as a deterrent to the homosexual [who is] hungry for youth." Its recommendations would make psychiatric examination of offenders mandatory and create a control file on homosexuals which would be available to public employment agencies throughout the state. The report, which included an opening-page picture of two men kissing and photographs of nude men and boys, was so irresponsible that it brought attacks from the Dade County state's attorney and the Miami
Herald
, which described it as an "official obscenity."
[caption 1]
On Main St. in Los Angeles, the "frantic hour" comes when homosexuals face their last chance for a pickup that night.
[TO BE CONTINUED]
To read the entire series:
The Way We Were (Reported)
- Part 1
When gay was in quotation marks
- Part 2
The bitterness of individual homosexuals
- Part 3
The Homosexual Faces Arrest, Disgrace
- Part 4