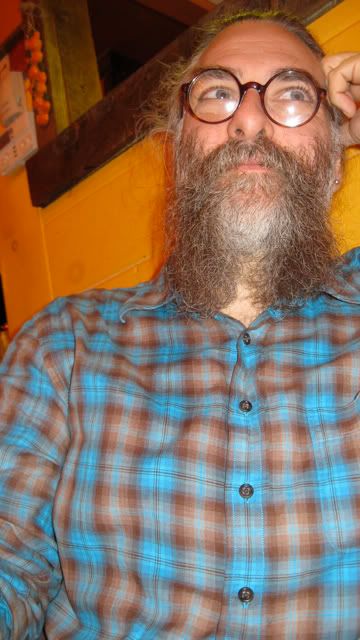 Got together with
naylandblake
who went shopping with me to help pick out at
Eee
for Meee.
Then we had a yummy dinner at a Mexican restaurant in his neighborhood, although the service was
teh straight
.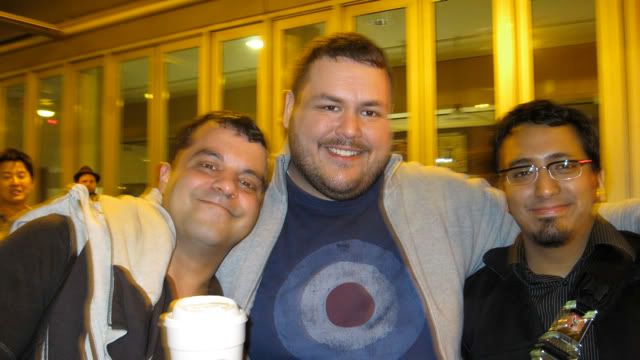 Then after doing some grocery shopping, someone shouted out my name on the sidewalk. It's
bobo_dreams
, who was out drinking with his good-lookin' buddies! I didn't recognize him 'cause he's lost weight and shaved off his goatee, and well, 'cause I had never met him before, only knew him from all his talents (photography
and
comics
and
cuteness!) he shares with us here on LJ.
Then I came home and watched
Pwoject Wunway
which is really boring this season full of really young, not terribly talented designers, although they did finally send the whiny Moonface home last night. The challenge was especially stupid this week, they go to the design studio to be told by Heidi they'll be bussed to Rodeo Drive "to meet a famous designer" who turns out to be the oompa-loompa judge Michael Kors, who gives them a two-sentence challenge to be inspired a locale represented by a selection of cheap stock photos. The results were equally uninspired. Maybe if they actually gave the designers more than a Supermarket-Sweep 20 minutes to tear through Mood to shop for materials and time in the studio instead of running around town for photo ops they might actually come up with some better fashions. It felt like they pulled this challenge out of their ass to placate the mostly AWOL and recently-returned Mr. Orange, giving him a plug for his Beverly Hills store.
And
mudcub
arrives tonight to spend the weekend with me. We're going to do a bunch of fun stuff.