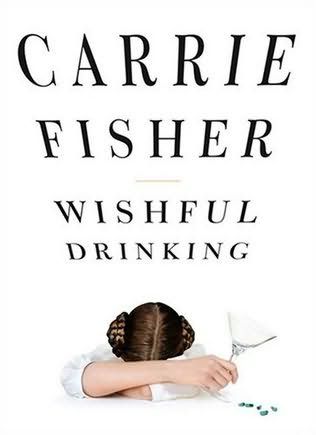 Went to see Carrie Fisher last night in her one-woman tell-all (and I do mean tell-
all
) show,
Wishful Drinking
. I'm certainly not any sort of
Star Wars
fan, but I do respect her for her writing talent, writing the bestselling roman à clef
Postcards From the Edge
(which was made into a movie starring Meryl Streep and Shirley MacLaine) while
in her 20's
, and for her later script doctoring work on several fine films. The reason I was there is that they were offering the theater's nosebleed seats during the first few previews for just $10, and whenever I can see live theater for little more (or in this case,
less
) than the cost of a movie, I am so there.
And I totally loved the brilliant poster design the theater is using for the show (which turns out is the cover of her memoir by the same name published last year) – even though we all know the type receded top first and was good ol' Helvetica, not this serif face.
As it turned out the preview show in the rather large Studio 54 theater had not sold out, and the ushers were told to consolidate the audience scattered in the balcony, so we were allowed to move down into the mezzanine, so we got even better seats about the seventh row back.
Carrie loosened up the audience by starting with a bit of focused Q&A about one of her latest scandals, that of waking up in her own bed next to a dead, powerful and gay… Republican (yes, it's true). There are any number of gems in her show, not necessarily the funny punch lines but wry observations and turns of phrases – now I want to read her book. Although this was only the show's second preview it was a polished show since she's been touring with it for a couple years already, and it was interesting to see how essentially a one-person show is slickly produced (with all sorts of still and film projections) to be writ large in a big theater.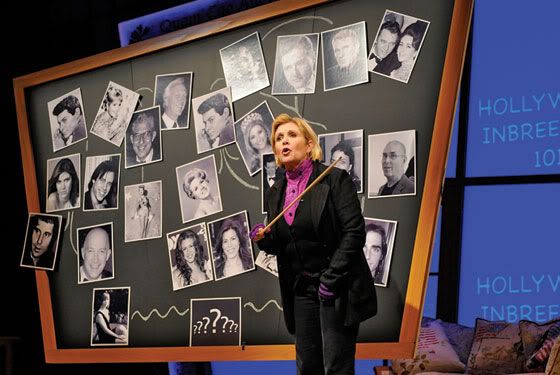 Being a one-person show, I expected we'd be out of there by 9:30, but she certainly gives you your money's worth, spinning out more than two hours of stories and confessions, so with an intermission we didn't exit the theater until almost 10:30. I saw the show with my friend Jeff/
hammerride
, who's a theater director so he tends to view things critically, and we both agreed that a good half hour could (and probably should) be cut from the show, but we both still enjoyed the show.
Wishful Drinking
runs through January 3 of next year, and it's a large house, so I expect they'll continue with discounts (currently $31.50, full price orchestra seats $111.50), at least until the holiday tourist crush.
That smart-ass
tycho_anomaly
snarked that we should have seen
the Prequel
first.