September 19th, 2009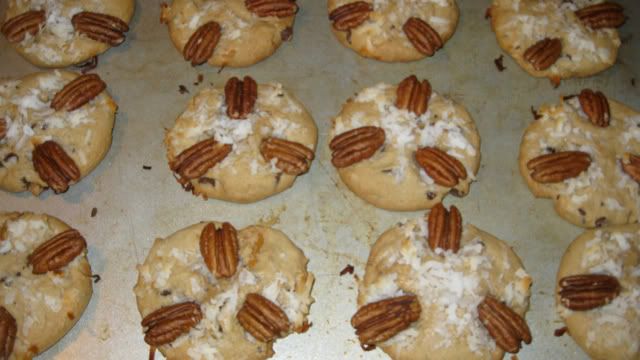 Baked some cookies this week. These are chocolate chip cookies hacked to become German chocolate cookies. Unwrap a caramel (which is what inspired these cookies, since special bags of them -- with popsicle sticks -- always appear in the supermarkets every fall before Halloween in the produce section next to the apples), and slice it in half. Surround with your chocolate chip cookie dough. Roll in coconut, and then top with pecans.
The other I cookie I baked were good ol' snickerdoodles. It's been so many years since I've made them I forgot how they expand and "mud crack" on top. And since I rolled them in superfine sugar as well as cinnamon, they had a nice shiny glaze, too.
What I learned: because of the butter in the cookie dough and the coconut, some of the pecans don't stick well. Next time the pecans get lightly toasted, coarsely chopped, and mixed in with. Maybe the coconut, too, although I like how it browns and gets bits of crunchy on top. Next time, more chocolate chips and coconut. They were still nummy, though. Just finished the last one that didn't fit into the containers that I mailed them off in to a friend at summer camp.