September 15th, 2009
jockohomofeed


Yesterday we had "Portraits and Buildings."
Today our groupings are "Beauty and Mysteries."
And some of them are both.



(

Collapse

)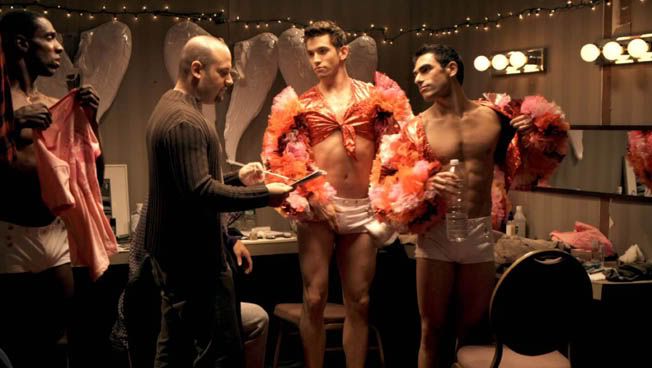 Friday
night was movie night with Brian/
wonderboynj
and
vernnyc
, something I hope becomes a regular thing (with any others that might care to join us). Brian and I are wondering if maybe a Movie Bears could get going in NYC?
We chose
THE BIG GAY MUSICAL
, which you probably haven't heard of since it was its premiere here in New York as it begins its circuit of gay film festivals. It's a sweet small indie gay film. I was ready to give it 2½ stars (out of four) but several of the best musical numbers are saved for the last 20 minutes of the film, so it deserves an upgrade to 3 stars. The directors knew when one of their many musical-comedy songs deserved a full production number, and when to just use 16 bars of its opening or closing.
The movie features the misadventures of dating, coming out, and
losing your virginity
(not necessarily in that order!) by two of the stars of an off-Broadway musical called
Adam and Steve
, which they clearly had a lot of fun writing in the vulgar-but-awfully-funny vein of
The Producers
and its "Springtime for Hitler" number. I'm sure the creators of
THE BIG GAY MUSICAL
(sorry, the title just < Buddy Cole >
screams
< /Buddy Cole > for all caps) are hoping for protests by the religious right for their depiction of God as a big queen -- think Paul Lynde crossed with Rip Taylor, yup,
that
gay -- to help promote their movie!
There was a lot of talent in the movie, afterwards they introduced most of the cast and crew that were in attendance, except for at least five of the movie's cast who were busy in Broadway shows that night! It's the type of movie that will be in heavy rotation on Logo in two years, until then you can catch it at
one of the many gay film festivals it'll be playing at
, and eventual screenings in larger cities.
Afterwards we ate at a diner around the corner from the theater, which may become a new favorite since when you order a grilled cheese sandwich, you get
a sandwich and a half
!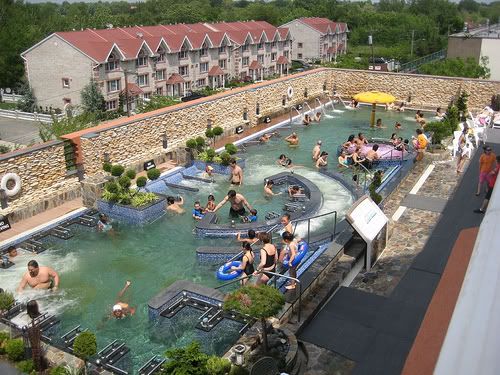 On
Saturday
I finally got to experience the wonders and splendors and pleasures of Spa Castle, a huge Korean water spa in outer Flushing, Queens, that
lolitasir
and
naylandblake
have been waxing rhapsodic about. All the pools and hydraulics are an amazing feat of engineering, surpassed only by Cirque du Soleil's "
O
" pool-
cum
-ampitheater. Given the weight of all the pools, the building was actually custom built for its specialized use, a rarity in NYC.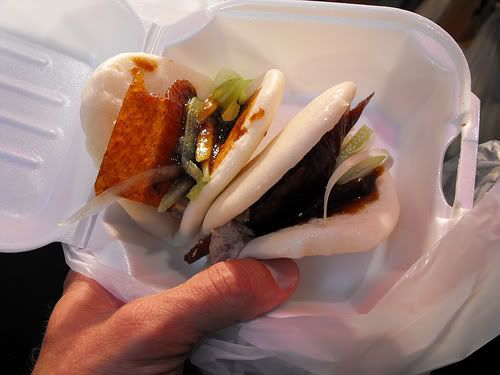 naylandblake
, Mike/
chef2b
, not-so-
bigdannyc
,
dominicvine
, and I headed out on the 7 train Saturday morning, and immediately upon disembarking in Flushing (a Chinatown even more bustling than Manhattan's!) headed to a renowned food stall that serves bits of roast Peking duck (and its crispy skin) sandwiched into a round of slightly-sweet steamed Chinese bread, topped with shredded scallions and cucumber and a spooj of hoisin sauce --
for only $1!!!. OMG
Becky,
BEST. STREET FOOD. EVER.
Only four bites -- so I bought two!
Somehow our crew was found via cell phone by our car service driver who
spoke no English
-- thanks to the global branding and signage that is McDonald's – and we stuffed ourselves into his town car that could only seat four – thankfully Dominic's small!
Upon arrival at Spa Castle, you remove your shoes and put them in a small shoe locker (the four-floor facility is spotlessly and fastidiously clean), then enter the locker room to disrobe, with your clothes and belongings going into another locker. You enter the men-only area of the baths to shower, and even just this area alone is worth the price of admission ($35 midweek, $45 weekends). Everything is provided – shampoo, conditioner, towels (along with hair product, combs/brushes/dryers, razors & shaving cream, toothbrushes and toothpaste, etc., etc.) There are numerous showers, a large area for Japanese-style stool bathing, and six huge baths/jacuzzis of varying temperatures (each digitally displayed), and a variety of water jets to relax and massage your body. There's a ridiculously hot steam room and a somewhat more tolerable sauna, with a cool rainshower between them, as well as a chilled pool to cool off in. Additional spa services such as hand, foot, and full-body massages (as well as pretty much everything else you can imagine from a spa) are also available for additional charges. Next time I think I'll treat myself to a full body scrub, slough off all my old skin a grow myself a new one.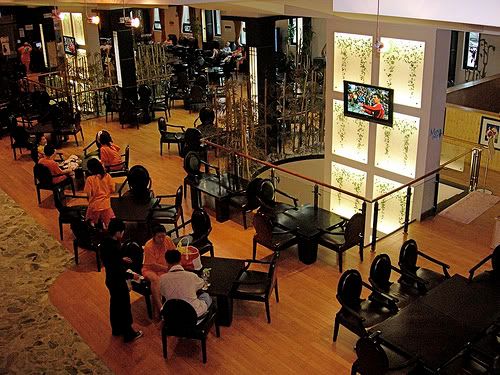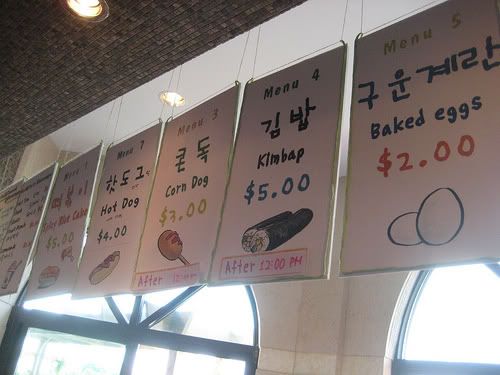 But wait, there more – much, much more! Upon leaving the men-only/no clothes area, you're issued a uniform of soft cottom trunks and a T-shirt, and surprise, they have them in roomy big-boy sizes, too. You pass a large lounge for reading and relaxing, and ascending to the next level, you come to a large social area (now mixed with the women), with all sorts of recliners and comfy chairs, a café with Korean food, sushi, and standard fare (I enjoyed edaname, steamed corn on the cob, and a Drumstick ice cream cone), including a salad bar, fro-yo and even a Starbucks! It's nice not have to worry about or have to return to the locker room for money, you're issued an electronic wrist tag that operates your lockers as well as "swipe" for any food or additional services, and then settle up upon exiting.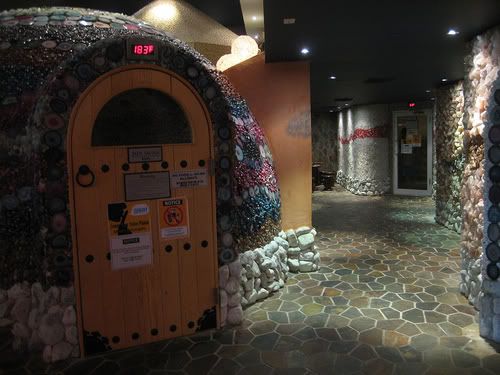 On that floor, in addition to other spa services, is the Land of Saunas, with six or seven saunas, all of varying posted temperatures, each more beautifully built than the next (the outsides covered with colored stones, quartz, and polished geodes!), and each with varying features (mineral salts, color therapy, infrared lamps). There's also an ice room to chill out it. In another area is a large marble floor, half of it gently chilled, half of it gently heated, to lie down on.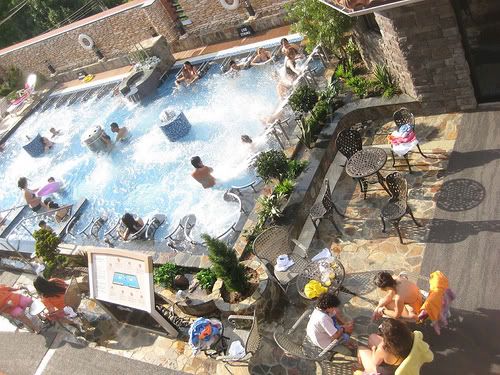 You ascend to the next floor and change again in yet another locker room, this time from your uniform into your swimsuit (the only thing you need to bring) for the mixed pools. Two large ones indoors (one of them a bar pool, where you can order and enjoy smoothies and other beverages while bathing) and two huge ones outdoors, in addition to two jacuzzis and the "waterfalls." The outdoor pools are adjusted to be cooler in warm weather and warmer in cool weather, which it was on Saturday. The pools have a ridiculous assortment of waterjets ranging from the mild to the knock-you-over force of a firehose. You don't need to pay for a massage, the waterjets do a great job by themselves! My two favorites were the "waterfalls" which propel-drop a huge volume of water on top of you, and areas which allow you to "float" in a seated position atop strong jets of water,
tingling all your tingly bits
. At almost all of the waterjet "stations" there are polished stainless steel handrails to hold onto for dear life!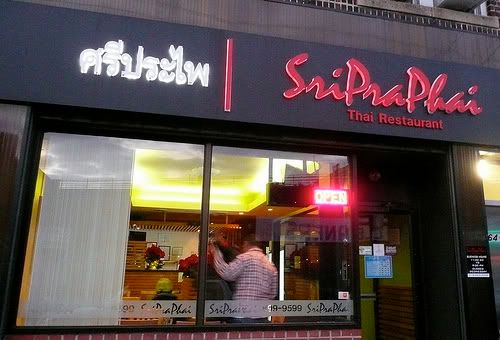 I felt
so relaxed
afterwards,
like a boneless chicken
. After a good 4½ hours at the spa, we headed back on the 7 train to Sripraphai, known far and wide as the best Thai restaurant in the city. We ordered a huge amount of food and I was feeling so happy I even ordered a beer. My two favorite dishes were the fiery green curry sauce with pumpkin and long beans over soft shell crabs (although that green curry sauce would have been delicious over
anything
) and a dish they call "drunken noodles" (so named, I think, because you order it late at night after drinking too much) with wide, thin noodles in a slightly sweet sauce, with ground pork, vegetables, chiles, and spices.
I may have actually overdone it being pummeled with all that water at the spa. I was certainly relaxed, but my body was also
sore
! Between that state and the big meal and a beer, I wasn't good for anything else that evening, so we said our goodbyes on the train and I went home and curled up with some internet and TV.
Sunday
I attended the MAsT-MetroNY meeting where I was the A/V nerd helping David Stein with his presentation on his book,
Ask the Man Who Owns Him
, which was a great overview and summary of wisdom gleaned from the 16 couples and families interviewed for the book about the dynamics of their M/s relationships (Hi,
eric_mathgeek
!). (I hear the book's co-author, David Schachter, will be making a similar presentation in
San Francisco
at A Different Light Bookstore during Leather Week later this month.) I got to briefly see Princess Wendy/
nice_n_evil
(and probably a few others here but I'm not sure of their LJ handles), but was too busy with all the tech stuff to do much socializing, and then ran out after the presentation but before the discussion and business meeting 'cause I was fucking
starving
'cause I had neglected to eat lunch before the afternoon meeting.
A McDonald's was the closest and fastest thing to the meeting space, and a predictable double cheeseburger sounded like it would hit the spot. Oddly (and perhaps appropriately) enough, inside the McD's there was someone wearing a black leather vest, and I noticed him and he noticed me as I was wearing black, a
POWERPLAYER
T-shirt, and my favorite knee-high Wesco boots. Later when he stood up I saw he was also wearing leather pants and a
"Looking for Mr. Benson"
T-shirt.
LOL OMG WTF BBQ?!?!?!!!!
because I mean, I haven't see one of those in
decades
. Was he also at the meeting and catching a quick bite during the break? Was he wearing the T-shirt
ironically
? 'Cause I mean, LOL OMG WTF BBQ,
really
.