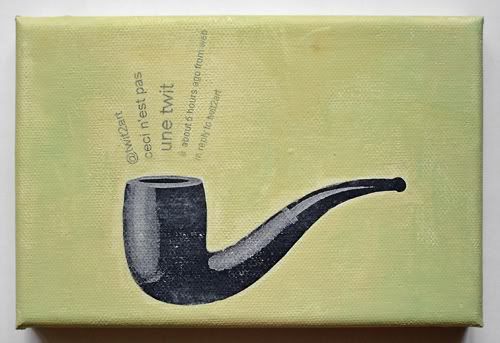 It's time once again for a round-up of some of my recent posts at twitter. And now I should post a pointer at Facebook. Wait, now all the cool kids are over at tumblr!
These usually run backwards in time, but a few multiple tweets have had their order reversed for the sake of the punchlines.
☞ ...is eating a Little Debbie snack cake and feeling very white trash.
☞ tonight, dinner in soho w/ buds, including two big musclebears visiting from uk, and a thespian from wisconsin.
☞ saw a great show at fringe fest last night,
THE BOXER
- "a silent movie on stage"
☞ is on the crazy bus to soho to pick up fringe fest tix - crazy person sounds like harvey fierstein SCREAMING.
☞ actually, it might be him.
☞ Tattoos are the new wristwatches.
☞ seeing
TAXIDERMIA
tonight with
naylandblake
&
danbearnyc
! shouldn't eat first, but I'm risking it.
http://www.taxidermia-themovie.com
☞
naylandblake
says, "If you see only one competitive eating / giant cat movie this year, make it
TAXIDERMIA
!"
☞ Which is better than my pullquote, "If you liked the Mr. Creosote sketch in
MONTY PYTHON'S THE MEANING OF LIFE
, you'll love
TAXIDERMIA
!"
☞ Add to my repertoire of impressions: the moaning lady in the Gorey title sequence for PBS's
Mystery!
series:
ohhhhh!
☞ DC hilites: scored copy of
BearFlavoured
4
mudcub
at Lambda Rising, brunch at Georgia Brown's, found great new home 4 mud. Returning happy.
☞ ...just passed a church by the side of the highway with a COLOSSAL statue of jeebus standing next to it.
☞ is on bus on way to DC to help
mudcub
find new home.
☞ I wish "It is what it is" wasn't.
☞ Oh, Whole Foods, we hardly knew ye. And you leave a bitter taste in my mouth.
☞ Note to self: Do not keep spare batteries for camera in same gym bag pocket with quarters. It's not good for batteries, quarters, or bag.
☞ mmm 3 kinds of BBQ ribs at Blue Smoke! Shrimp corn dogs w/ avocado-lime dip for starters, and the best chocolate cake and milk for dessert!
☞ The mantra, "Well at least I'm not a heroin addict" somehow got me through the day.
☞ (Apologies to any heroin addicts on my twitlist.)
☞ Darn. lickspittle.com is taken.
☞ Tonight I either do the laundry, or buy some more underwear.
☞ A friend gifted me with a box of Tim Hortons donuts. I am underwhelmed. Major points off for leaving out the custard in the Boston Cream!
☞ To
theoctothorpe
: Virgin America's RED was overbuilt but enough of it works. I'm fine with them concentrating on keeping the planes aloft.