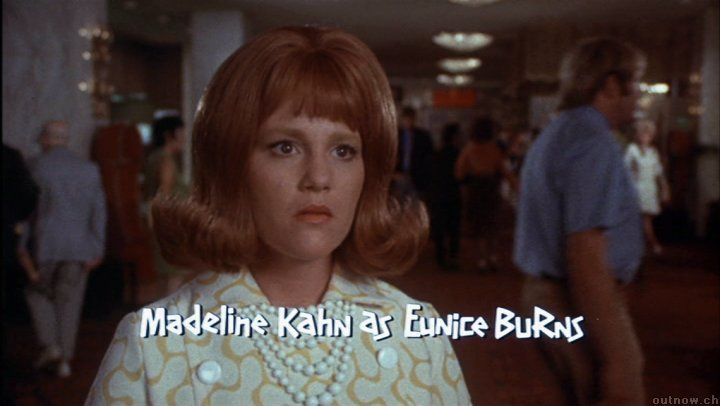 I was astonished at how many people guessed my birthday movie
based on the most obscure still I could find of it, one without any of its stars.
Speaking of stars, Ryan O'Neal was better in both
Paper Moon
and
Nickelodeon
, and the only Barbra Steisand comedy I've liked was
The Owl and the Pussycat
. They're certainly no Cary Grant or Katherine Hepburn, but who really makes this screwball comedy so much fun, stealing every scene she's in, is the sublime
Madeline Kahn
(who would just a year later once again play opposite Ryan O'Neal in
Paper Moon
as the scheming Trixie Delight). Madeline was a comic genius gracing our screens, she actually got Academy Award nominations for her performances in
Paper Moon
and
Blazing Saddles
, and the Academy rarely recognizes performances in comedies, especially vulgar ones!
So here's the formal invite
to come and join me for a silly movie for my birthday:
7:00 pm Thursday, July 30 – Chelsea Classics at Chelsea Cinema, 23rd St off Eighth Avenue
There's a preshow hosted by drag queen Brini Maxwell with door prizes, and
tickets are only $7.50!
This screening may sell out (since it's not the usual Bette/Joan stuff they screen over and over) so you might want to get your tickets in advance
at their website here
later this month.
wonderboynj
and
lolitasir
and
jazzbearny
and
sirpupnyc
are planning on being there! And I'll smuggle in goodie bags for everyone so you don't have to buy an expensive box of stale gummi bears!
Please RSVP
so I'll be sure to have one for you & we can save you a seat so we can all sit together.
Dinner will follow at
Righteous Urban BBQ (RUB)
down the street, which would likely run around $20+ per person, tax and tip included.
ATTENTION FOODIES!!!!!
RUB BBQ now features
Bacon Chocolate Chip Cookies (along with Deep Fried Oreos)
on their dessert menu!!!!! Squeeeee!!!
Now you have to come!
Everything is dutch treat, so please, no gifts – all I want is your presence there!