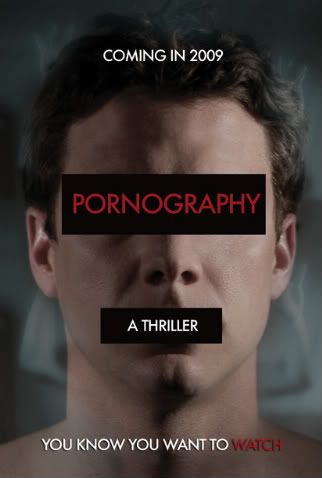 Last night I went with the Blakester to see the
world premiere
of
Pornography
at the New Fest film festival, a gay thriller by some people who may be on your LJ friends list: written and directed by David Kittredge/
zodmicrobe
, produced by Sean Abley/
zombietruckstop
, filmed in
fj
's faboo L.A. loft apartment, and with a couple of cameos by
mattycub
(who apparently slept with the producer).
Pornography
is
The Tenant
meets
8MM
, set in the world of
gay porn
.
It's billed as David Kittredge's first feature, but it's so assuredly directed he must have a lot of second unit and other industry work under his belt. The film looks great, beautifully shot with expert matching of the look of vintage porn and video distortion of low-res surveillance cameras. The film is also masterfully scored, and has strong performances all around, especially by the three leads (the lead actor in the second part is especially woofy, who apparently
needs to shave several times a day
).
There were a lot of small touches that I loved, like the creepy scene with a bathroom mirror that bisected the reflected face, and had a shower curtain in the background. Nayland and I laughed afterwards about one of the horror movie tropes they included, which followed the Horror Movie Rule: If you're investigating something spooky, keep the lights off. A gay couple go looking for an intruder in their apartment with a baseball bat, but of course don't turn on any lights. I did think the film could be even better if it was a little tighter, and I got a bit lost in the third part as the plot kept folding in on itself.
So I might not consider it a great film, but what impressed me most is how very good it is for a
first feature
, comparing it to other early works by directors who are now highly esteemed. Let's just say that
Pornography
is hella better than first/early works by Scorsese, De Palma, or Woody Allen. Certainly there are a lot of factors (including fortune) that can affect a director's output, but I'll certainly be keeping an eye out for future works by Kittredge (as well as producer Sean Abley, who directed
Socket
, which I also liked).
I hope the film finds a distributor who can
market the fuck
out of it, so it doesn't wither with just some festival screenings and the TLA backlist. Although actual full frontal penii are kept to a minimum, it'd get chopped to pieces if it ran on Logo. I think it has the potential to be a well-regarded cult film, although it probably contains too much
man-on-man action
to break out as a big indie hit (at least in the U.S.) – and also because it's a creepy thriller, not a horror/slasher/torture film, which U.S. distributors seem to prefer to market to the teen boy box office demographic.
Like the edgy pomo writer who titled her novel
Winner of the National Book Award
, if you want to get a good crowd at your movie, title it
Pornography
. It was almost a sell-out crowd, which is quite impressive considering the theaters the festival are using this year are
huge
.
A second screening has been added for tonight
, Tuesday, June 9, at 10:15. It also plays the San Francisco Gay Film Festival later this month on June 21, and Los Angeles' Gay Film Festival on July 18. (
Pornography
got the trifecta! I bet it can also get the Chicago and Berlin festivals if it wants.)
You can view the trailer here:
http://www.pornographythemovie.com/
I wanted to say hi to and congratulate David after the screening, but of course it was a total mob scene with David surrounded by scores of friends there – hey, it was the
world premiere
, bitches! So congratulations, here, to David and Sean for a most impressive first film.