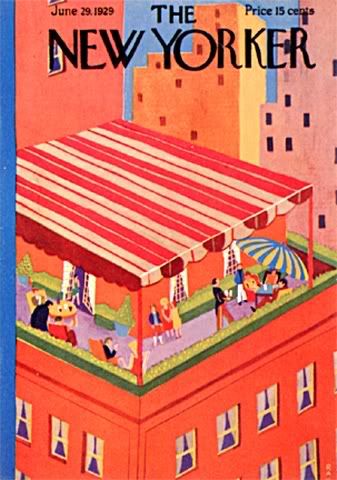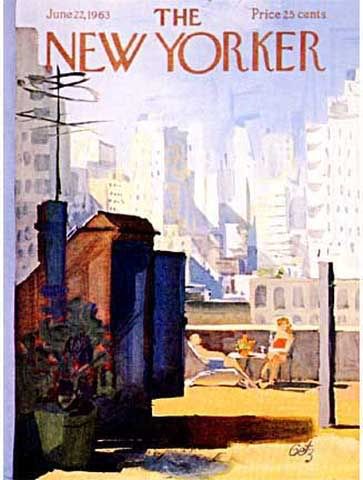 Hard to believe, I know, but sometimes I actually socialize with people not on LJ. Sunday I was invited over to my friends Kaz and George's for a dinner party. It was a beautiful day so it was held up on the rooftop of their duplex penthouse apartment in Hell's Kitchen. Drenched in sky and sun and surrounded by the muscular buildings of west midtown, and drinking lots of good wine, I felt very much the sophisticated Manhattanite, right out of a
New Yorker
cover.
Mike, another of the guests, prepared homemade empanadas, a roast shoulder of pork, homemade and freshly-baked challah bread, and salad. I brought a dessert, a commercial lemon cake gussied up with lots of fresh raspberries in a sauce made from melted raspberry sorbet. It couldn't have been simpler, or more delicious. The lemon cake had a bright intense flavor and was made with lots of the fruit's zest, giving it a nice bitter edge that complemented the intenseness of the raspberries and the sweetness of the sauce, and it all went down well with the red wine we were drinking.
The spirited conversation was stimulating in more ways than one (if you catch my drift), as might be expected when six very kinky gay men get together. Although Kaz and George are from Seattle and San Francisco and I was only introduced to them last year by
bikerbearmark
(see, there
is
an LJ connection!), it was surprising how many people we mutually knew and experiences we had in common – Lurch, Roger/
qnetter
, Delta runs, to name just a few. Kaz had called me the day before while I was brunching with Mike/
chef2b
from Palm Springs, and he and Mike knew each other, too!
I didn't bring my camera, for once, knowing I'd be outclassed by
Kaz
, but as the sun went down and the lights started coming up on the skyline of the Times Square skyscrapers to the east of us against the deep blue sky, I couldn't resist pulling out my sad little cameraphone to take a shot. It does not do justice to the sights, sensations, laughter, and memory of that lovely evening, thus my post here.