I'm such a culture vulture I'm now pimping out exhibitions
in other cities
. But I've friended a number of really cool LJers in
Seattle
, and many of them have friended me back, so I thought I'd mention that there's an interesting show that recently opened there at the
Frye Art Museum
.
The Puppet Show explores the imagery of puppets in contemporary art. The exhibition brings together twenty-nine artists with sculpture, video, and photography [that] investigates themes of manipulation, miniaturization, and control. The exhibition demonstrates that in art, as in Western culture, the puppet acts as a psychological surrogate, social and political commentator, and entertaining performer.




The Puppet Show takes as its point of departure Alfred Jarry's 1896 play Ubu Roi, which was originally conceived as a puppet show. The despotic king, who strode on stage roaring the French scatological word "merdre," is the perfect source for all puppet allegories of grotesque government and acts of puppet transgression.

More recently, puppets have taken hold of popular consciousness by way of films, theatre, computer games, and animation. Seen in correspondence with these pop culture images, the works in The Puppet Show advance the question: Why do puppets matter now?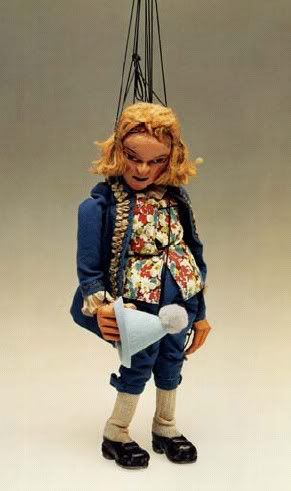 naylandblake
has a piece in the show, shown above. It's from a group of works he did about DeSade's
Philosophy in the Bedroom
. That's the first solo show of Nayland's I saw, long before I met and became friends with him. The puppet references not only one of the characters from DeSade's writings, but also a famous Warhol superstar – can you guess which one?
Other participating artists include Louise Bourgeois, Mike Kelley, Paul McCarthy, Bruce Nauman, Laurie Simmonds, Kiki Smith, and Survival Research Laboratory.
The show was curated by the Institute for Contemporary Art in Philadelphia early last year and has been touring the country ever since. Its Seattle exhibition is the final stop of the tour. Admission to the Frye Museum is
free
. There's a special guided tour of the exhibit (tickets $9-13) next Thursday night, May 28.