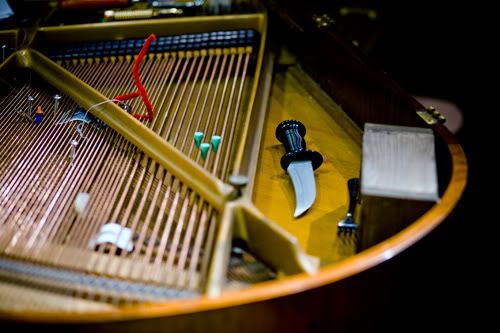 Friday night
mudcub
and I went to see
Coraline: The Musical
.
Stephen Merritt (of The Magnetic Fields, et al.) wrote the music and songs.
It's one of the riskiest pieces of theater I've seen in a long time, and I really enjoyed it.
It's not an unflawed show. The fantastical young-adult novel by Neil Gaiman is a story (talking cats, hundreds of performing mice, ghosts, tunnels and deep holes, mothers who transform into monsters, and much more) that you would think would pretty much only lend itself to animation (as it very recently was) or unlimited CGI. So there's a lot of exposition that the play's characters simply declare, such as "I'm outside now."
It's got the most nontraditional casting, even more so than The Public Theatre. Coraline, the young heroine, is played by an esteemed actress (Jayne Houdyshell) in her 50's. The evil "Other Mother" is played by the playwright, David Greenspan, in drag. The remaining five performers play a variety of the show's additional characters, regardless of any factor such as age, gender, or species. At first the playwright doesn't have much of a strong voice, and you think, oh, he's not a good singer. Later you learn he was simply holding back and saving it for his big death scene number, clearly conceived and performed by someone who was deeply impressed by the Wicked Witch of the West's screen demise.
Stephin Merritt scored the entire show for piano, toy piano, and prepared piano, a term for pianos that have had their strings and hammers affixed with all sorts of things that affect their sound. Several large pianos and
more than thirty toy pianos
make up most of the set. The entire cast uses them for percussive effects throughout the show. The result is an amazing and inventive almost full scoring of the entire show. It's some of his best work, although that can usually be said about most of Merritt's latest projects.
A variety of old doors and eclectic and mismatched light fixtures and antique lightbulbs complete the set design. The costumes and props are incredibly clever and resourceful --
where
did they find all these wonderful things?!! Great lighting effects throughout.
There are several great numbers: the semi-retired theatrical sisters' duet, the parents' imagined delight at life and vacations without Coraline, the haunting ballad by the dead children, performed
bunraku
-style, and the Other Mother's big death scene. My favorite might be the cat's big solo, a playfully perverse rethinking of "Kitten on the Keys."
My theater buddy Scott/
sirpupnyc
rates all his shows on a run/walk/stay away scale, and I'd rate this one a definite
run
to the theater for tickets.