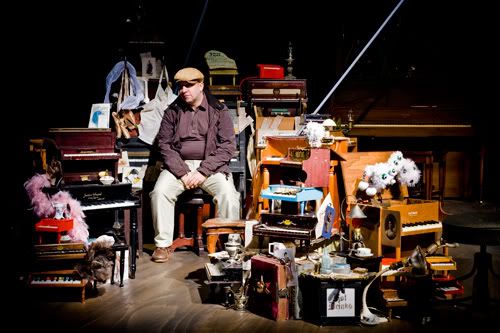 Stephin Merritt on the stage for Coraline.
The set is made up of over 30 toy pianos, antique light fixtures, and old doors.
Photo from
Vanity Fair
mudcub
came to town this weekend and I always try and show him a good time, sharing with him a lot of what I love so much about living in NYC. We crammed so much culture into the weekend you could have just
vomited
.

Coraline: The Musical
, music and lyrics by Stephin Merritt

corn on the cob, Jack Daniels pork chops, and chicken enchiladas at Cowgirl (Hall of Fame)

Jenny Holzer and Claes Oldenburg exhibits at Whitney Museum

GMSMA workshop with
naylandblake

Objectified
at IFC Center (but only because Olivier Assayas'
Summer Hours
was sold out)

oyster shooters, lobster roll, sweet potato chips, Pork Slap Pale Ale, s'mores, and salt water taffy at Ditch Plains

Unoppressive Non-Imperialist Bookstore

onion bagels, cream cheese, and nova lox at Ess-a-Bagel

Kaleidoscope Quilts and artisan kaleidoscopes, Ulysses Davis, and Henry Darger shows at the American Folk Art Museum

private viewing of
The Tonight Show
guest hosted by Kermit the Frog and starring The Muppets (circa 1979) at The Paley Center for Media

just-opened Avedon: Fashion blockbuster exhibit at the International Center of Photography with
naylandblake

Happiness
musical at Lincoln Center, starring Joanna Gleason, Hunter Foster, and Ken Page, and directed by Susan Stroman

Little Ashes
at Landmark Sunshine Cinema, about a passionate relationship between a young Salvador Dali and Federico García Lorca

kishka, pastrami sandwiches, and Dr. Brown's cream soda at Katz's Deli.
Details and brief reviews hopefully to come, if time allows.