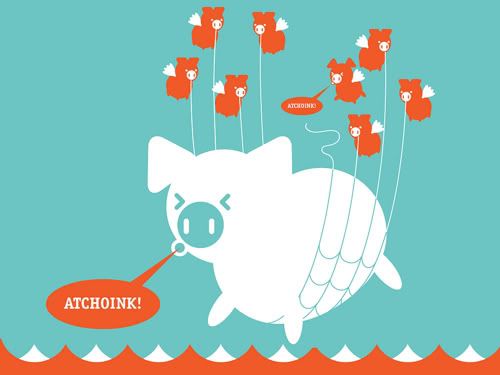 Some past tweets of mine from Twitter....
▪ I took an Aleve, an Advil, and an Excedrin all at the same time. Will I die, or will they cancel each other out?
▪ thornyc wants to know who's gonna go and walk her dog. Tonight, gallery opening of Laurie Anderson's new show at Location One, if work allows.
▪ The Big Bang Theory + The Office + more funny = IFC's The IT Crowd. Only :( is that being a britcom, seasons are only 6 episodes.
▪ Had to remove Gawker from my RSS feeds - the ads that are fed with every post got too big. So my online reading is NOW WITH 80% LESS SNARK!
▪ last one out of the office tonight, even after the management trainee suck-up and the cleaning lady.
▪ "RECENTLY SURFED" at
http://chrisglass.com/
is far, far, far greater than BuzzFeed, and will be replacing it on my bookmarks toolbar.
▪ The Dessert Truck now offers a BACON CUSTARD SAUCE on their warm chocolate bread pudding!!!
http://www.desserttruck.com/
(lower right)
▪ I dreamt my kidney stone came out. It looked like a slug, and was as clear as glass. Can't find this in the Book of Dreams.
▪ I hacked my multigrain bagel at breakfast, adding raisins and toasted almonds atop the cream cheese. Not quite a *foodgasm*, but close.
▪ My flattop really needs a trim - it's looking quite David Lynchian - who happens to be here on twitter - his is as perverse as you'd expect.
▪ rubbing shoulders with luminaries at dim sum: susan wright, ncsf head, erotica writer, and trekker, and kate bornstein, genderhacker
▪ Today's Transcontinental NYC Film Festival selection was Jem Cohen's LOST BOOK FOUND, one of my favorite films about NYC.
▪ Something you don't see every day: An elderly Chinese woman on the bus, eating saltines.
▪ It's not the Kool-Aid, I mean iPhone, that scares me, it's the monthly service plan commitments....
▪ lazy morning. off to erotic art show at center with danbearnyc, then to gay bear zine party at printed matter, and taschen warehouse sale.
▪ butternut squash soup w/ tequila-soaked cranberries; roast duck in vanilla-hazelnut mole w/ sweet potato puree; dark chocolate flan
▪ In my apartment building mailroom... Verizon's still publishing a White Pages?!! How quaint.
▪ Trimmed my beard by 2" (sorry Furr) -- it was catching in my jacket zippers and I was finding food from a week ago.