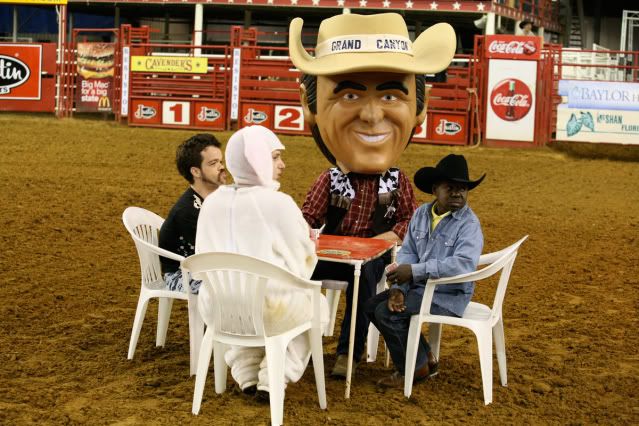 Here's another chance to see a film at the Tribeca Film Festival with me.
Sunday, May 3
, 10:30 pm, at the AMC Village theaters at Third Ave & 11th St.
Midgets vs. Mascots
is having its world premiere at the Festival this Saturday night, and the film must have some buzz (plus an outrageous premise) 'cause all four screenings sold out early. This is an added fifth encore screening on the last night of the Festival.
Midgets vs. Mascots
is a mockumentary comedy. You can view the trailer
here
or check out
the film's website
. Here's the description from the TFF website:
It's a battle for the ages when Big Red, deceased little person and former mascot turned porn mogul, puts his great fortune up for grabs. Who will win? His preppy, spoiled, ungrateful son? Or his gold-digging, cheating young wife? In order to clinch the bulk of the inheritance, each of them will have to coach a team comprising people very close to Big Red's heart: five little people and five mascots. To score a million bucks, the teams must compete against one another in 30 ridiculous events like "who can drink a gallon of milk the fastest" and "how few insults does it take to get punched in a bar."

A cross between Jackass and the Real World/Road Rules Challenge, this outrageous and hilarious film features the highly anticipated return of Gary Coleman (as you've never seen him before), leading his team as their "Shaquille O'Neal." Director Ron Carlson choreographs the always-hysterical (and at times gross) action to produce tear-inducing laughter as the drunken, belligerent mascots act more foolish than their costumes can make them look, and their rivals prove that size has no impact on a competition when the competitive spirit and determination is so strong.
Comment if you'd like to attend; all comments are screened. Given the late hour it's probably best for someone who lives in the city or doesn't have to get to work early on Monday.