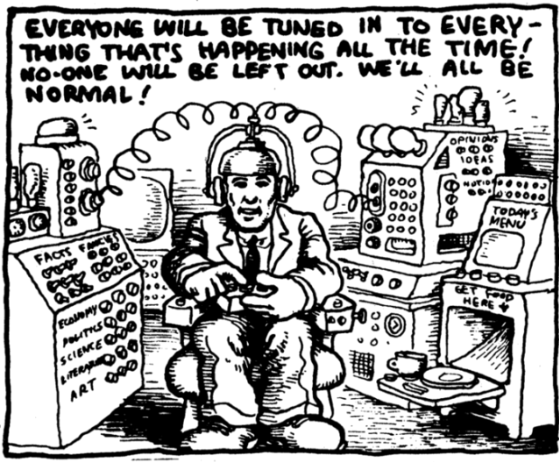 Robert Crumb, Zap Comix, circa 1969
At least the technology got smaller!
Some of my tweets from twitter. Not surprisingly, most of them are about food and movies. And a few twitter-specific jokes. They run backwards in time, a few multiple part posts have their order reversed so they're not confusing to the twitterless.
▪ Dear Universe: I've been a good person. Please don't make me have to watch, under any circumstances, THE SOLOIST.
▪ @ianwelch thanks for sharing that great Frank Rich piece on the tide turning toward gay marriage,
http://tinyurl.com/djflw
▪ I'm getting so many strange, unknown followers here on Twitter I'm beginning to feel like the next victim in a zombie movie. "Eyeballs..."
▪ Israeli sumo wrestlers, outing homosexual Republicans, experimental Austrian erotica, John Hurt as Quentin Crisp again 34 years later...
▪ ...and little people vs. mascots (Gary Coleman's comeback!) -- got my Tribeca Film Festival tickets!
▪ Best performance by an actor in a movie you'll probably never see: John Malkovich in THE GREAT BUCK HOWARD. With Ricky Jay & Tom Hanks' son.
▪ Oh noz! I missed Monte Cristo sandwich day in the cafeteria! Thor sad, and hungry for salty-sweet-eggy-cheesy goodness.
▪ Bought some cheap peanut brittle and just broke off and ate the pieces with nuts. Are peanuts really that much more expensive than sugar?!!
▪ Just discovered that Twitter has a blog. Which somehow seems intrinsically wrong.
▪ just said goodbye to Matt/badfaggot after a lazy afternoon of tacos, homebaked cookies, The Simpsons, Daily Show, and some PBS atrocities...
▪ Kidney stone FINALLY came out, was causing me problems and pain for weeks if not months. As expected it was large, jagged, and oddly shaped.
▪ I'm celebrating with a big bowl of popcorn and what's piled up on my Tivo.
▪ I thought I made a new friend here but it turns out she just wants to sell me bulk shampoo for my dog. Twitter = Amway + a computer.
▪ w00t! my a.m. commuter paper starting running KEN KEN puzzles. My first try was total FAIL but my second total NAIL. More fun than sudoku!
▪ badfaggot's comin' to town - time to clean the apt & stock up on beer. and make tacos!!!
▪ I actually saw SNOW FLURRIES this morning. Hey Mother Nature, WAKE THE FUCK UP!!!!!
▪ Analogist, not Luddite. After 20+ years of carrying around a six-ring notebook, I've graduated to a Moleskin. I got the one in Jungle Red.
▪ I'm so tarred I'm tard. No sleep on redeye last night. Tonight I will enjoy the sleep of the just... exhausted.
▪ Feelin so beat down from work that not even a 2/3-off sale on Cocoa Pebbles makes me happy -- although I still bought two boxes.
▪ Today's shopping list: pick up boots being altered at leathermaker's, hand-rolled cigar, new dog dish. 'Cause I'm packing for Vegas, y'know.
▪ Today I scored a 5: while walking down the sidewalk, I passed 5 people IN A ROW talking on their cell phones!
▪ thornyc is off to poker & cigars & BBQ with Olli, Scott, Lolita, @boymeat, a Jeopardy champion, and another Scott, at Nayland's. Woo-hoo!
▪ The very best almond croissants come from Java City, and I just ates one. I serve them with extra sharp cheddar cheese to cut the richness.
▪ OMG, a new sitcom about synthetic food engineering. BETTER OFF TED is a clone of THE OFFICE, as envisioned by David Lynch or Terry Gilliam.
▪ MONSTERS VS. ALIENS: Overhyped but still fun. Surprisingly adult. Female heroine. New Real 3-D so much better than old fake 3-D! And...
▪ ...coming attraction for WHERE THE WILD THINGS ARE by Spike Jonez & Dave Eggers, and wild thing design by Jim Henson's Creature Shop! And...
▪ ...new EXPANDED coming attraction for Pixar's UP - you won't believe what happens! It just keeps getting better and better.
▪ Tonight: seeing MONSTERS VS. ALIENS in 3-D, glorious Technicolor, breathtaking Cinemascope, and Stereophonic sound!
▪ Great Italian restaurant dinner followed by cigars AT THE TABLE with 5 LiveJournal friends tonight. Much conversation, laughter, and garlic!
▪ Fuckity fuck fuck - for the first time in 20+ years, I lost my book of things to remember.
▪ On line at the St. Mark's Kmart: A little people couple, pierced, tatted, totally gothed out. She had 'BITE SIZE' tattooed on her knuckles.
▪ Breach in the space-time lunch continuum: I put corn chips inside my tuna sandwich, just like I did when I was in second grade.
▪ Signs of the recession: my fave Chinese lunch place's eggrolls are now significantly smaller. Does cabbage and grease really cost that much?
▪ File under "Bad Ideas" and "Now I Know": Do NOT put a Rice Krispies Treat in the microwave. It loses all structural integrity.
▪ I do not like green tea shampoo. I do not like in a boat. I do not like it with a goat. I do not like it, Sam-Be-You. I do not like green...
▪ FOR TODAY, I WILL remember that my life is more than my documentation of it.
▪ This weekend's NYC Film Festival selection was the pimptastic WILLIE DYNAMITE, starring Gordon from Sesame Street! chick-a-wah-wah!
▪ Dear Tom Hanks and Nicholas Cage: Please stop making crappy movies.
▪ thornyc is concerned that twitter makes too many people think, write, and refer to themselves in the third person.
▪ Squeeeee!!! My new issue of WUVABLE OAF just arrived! *toes curling in delight*
http://www.wuvableoaf.com
▪ I plucked my SOLE gray eyebrow. Let this be a lesson to all the others!
▪ So Rush Limbaugh is the new leader of the Republican Party? I couldn't be happier. Although there were those that felt similarly in 1933....
▪
#meta
▪ I love reading AARP magazine at my dentist's to see which celebrities are older than me: Patrick Duffy, Vicki Lawrence, Joyce DeWitt!
▪ Saw the catalog for Nayland Blake's Behavior show, and it's f-a-b-u-l-o-u-s! Coming soon to a lulu VERY near you.
[Edit: see here: http://www.lulu.com/content/6547523]