April 16th, 2009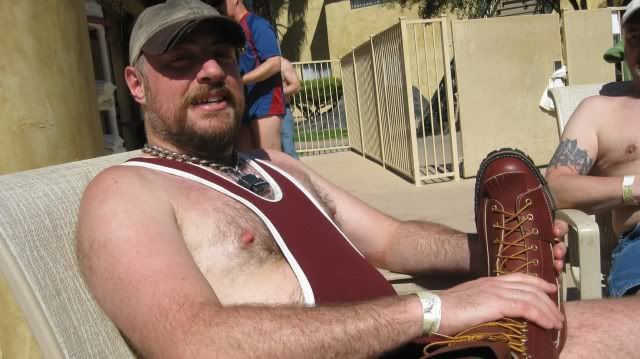 S I N G L E T & B O O T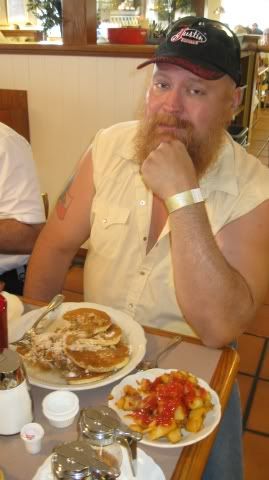 Thanks to a recommendation by Scott/
schlingel
during a previous Smokeout, I know the best pancakes in Las Vegas are to be found at
The Original Pancake House
. It's far better than the Bluberry Hill Diner near the Smokeout host hotel, and worth the 15 minute ride across town (although probably not the cab fare now that the city's rates have gone up). So if you have a car, it's the place to go.
You know the place is serious about their pancakes and the rest of their breakfast menu 'cause they're only open for breakfast through mid-afternoon. Big Dave ordered the coconut pancakes which were quite yummy, although I thought they could either be improved with chopped almonds and chocolate chips (Almond Joy pancakes), or chopped pecans, chocolate chips, and a caramel sauce (German Chocolate pancakes).
I took this photo to document that Big Dave finally got his pancakes, 'cause last year we drove out there, and just as the food was placed before us, Dave got a call from
niagarabear
, who had just arrived at the airport. Anyone else would have told him to wait an extra ten minutes, but Dave's too much of a Southern gentlemen, and left immediately to go pick him up. Of course the rest of us ate his food while he was gone, and we still tease him about it. Big Dave finally got his pancakes!!!
They also have
thick, extra-wide slab bacon
(the widest I've ever seen, it's probably specially cut for them), properly cooked slowly and served crispy.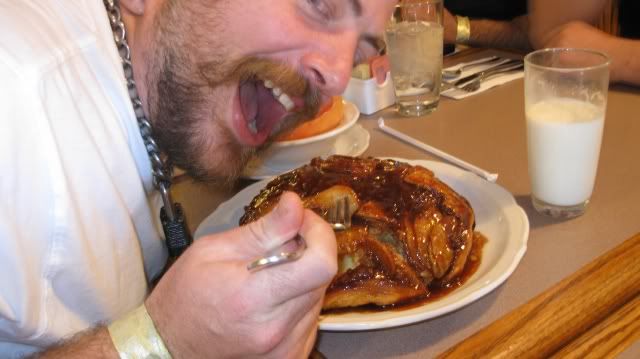 mudcub
ordered the house specialty, their baked apple pancake, for which a they put a lot of butter, brown sugar, cinnamon, and sliced apples into a black iron skillet, then pour in a rich eggy batter, and it's
baked to order
for 20 minutes. It gets all puffy then is turned out onto a plate, looking like it would feed four hungry bears (they have a small version, too, called a Dutch Baby). It is also extra nummy.
Actually, there are Original Pancake Houses throughout most of the U.S., although none in NYC, which is probably a good thing as I'd be at least 20 pounds heavier if there were. All I can say is that it's a treat to get to eat at one when I visit Vegas. And The Original Pancake House's pancakes are much, much
>
Waffle House's waffles, although the Waffle House does have their jukeboxes,
hash browns served 384 different ways
, and late-night hours. And IhoP and Denny's? Only when there's nothing else around.