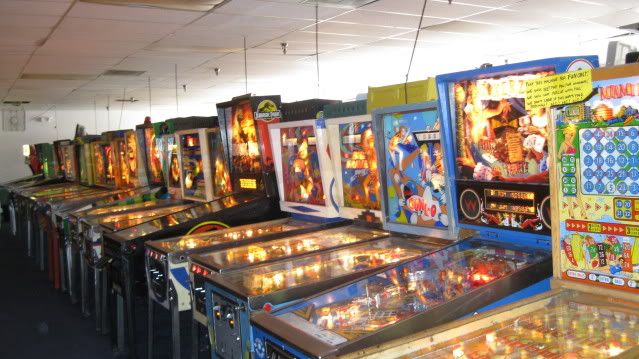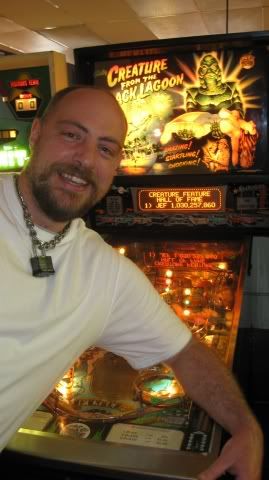 I grew up in small towns all over Southern California, and when I was in high school unless you were a stoner there wasn't much to do at night other than hang out at the local fast-food taco joint, and mostly we just hung out – several times a week – at the town's sole bowling alley, which had a couple pinball machines, which we would play all night. Which is about as close to juvenile delinquency as I got. Later I would haunt the arcades of downtown San Jose and San Francisco even as the pinball machines were being squeezed out by all the new video game upstarts. Later, I could play the machines in the South of Market gay bars instead of holding up the walls while nursing a warm beer.
When I moved to New York, I was able to play for a while in the 24-hour arcades of the
old
Times Square, but those were eventually squeezed out completely as redevelopment of ritzy hotels and big theme restaurants toook hold. And NYC real estate being what it is, most gay bars didn't have the room for any of the machines. But worst was that you
couldn't win a friggin' free game
on any of them, either by points or matching at the end, 'cause by state law that was considered gambling. So I stopped playing entirely except when travel took me to other states.
So imagine my delight when last year I discovered there's a
Pinball Hall of Fame
in Las Vegas. Notice it's "Hall of Fame," not "Museum," which means that
you can play
every single machine in their collection. I love it that they're purist/old skool, too – none of that tokens crap, the machines run on good old-fashioned Amurrican quarters.
And it turns out
mudcub
is an even bigger
juvenile delinquent
fan of pinball than I am, he even had made up a list of his Top Ten favorite machines – many of which the Hall of Fame had in their collection! He's likely a better player, too, besting me easily on the first couple machines we played, but I hit my stride and eventually whipped his ass on some later games.
The Pinball Hall of Fame resides in a nondescript strip mall, like just about everything else in Vegas besides the hotel-casinos – gay bars, even the Liberace Museum. I think there's a tattoo parlor and a titty bar next door, which only adds to the verisimilitude. They have over 100 machines, all well-maintained by a scruffy grizzled carny-type guy, the likes of which
snousle
would be all over. They also have some classic video games (remember Galaxian? or the two-player Tetris?), other arcade amusements (foosball, air hockey), and even a nice variety of classic candy-and-toy vending machines, where I bought
mudcub
a souvenir, a pooping dog keychain. 'Cause I'm romantic like that.
The place is supercool, and if I lived in Vegas I'd hold my birthday party there
every single year
. They had fewer of the older mechanical machines than on my previous visit, but it was a lot of fun playing some of the amazing designs of the newer machines, too – and thank the pinball gods that at least one company has remained afloat during the digital/video age and continues to manufacture them.
We played all sorts of machines, from early mechanical models to old favorites to foreign rarities to some of the newest models. There are actually
background notes
hand-printed on cards attached to many of the machines, describing their history and relative innovations and merits. We played two amazing rare models, brilliant and incredible feats of engineering. The first was an older machine (the scoring was still done mechanically with numbers on a wheel!) that was
twice the length
of the usual pinball machine, with both players playing at the same time at opposite ends. The board was soccer-themed, and
the entire playfield tilted back and forth
, depending on which player was in "control" of the ball. The second was one of
only two models made
, a prototype for a 3-D pinball machine, shaped like a large cube instead of wide slab, full of mazes of bent-wire channels and mechanical gimmicks to bring the ball to higher and higher levels.
How do you know when you're a true Pinball Wizard? When you
walk away from a machine
with games you've won still on it. Which we did. Several times. 'Cause we're good.
But too much of a good thing is still too much, and when that mall-zombie-glaze took over, I knew it was time to go. Two and a half hours later, when we staggered out of the Hall of Fame, we smelled the rich odors of a bakery nearby. There's something about sunlight and the smell of yeast – after spending a couple hours in the dark doing something completely unproductive – that makes you feel reborn (or at least redeemed), like the hero at the end of that stupid yuppie novel,
Bright Lights, Big City
.
We asked the carny who stepped outside for a smoke where it eminated from and he said the bakery was in the next strip mall over. We walked around the el to the next sad little mall and sure enough, there in the back was a busy Big Bottom Bakery, which turned out to be a big
industrial
bakery with a shop in the front. The smell of all the freshly-baked goods was intoxicating and I wanted to just curl up there, but we finally decided on a soft pretzel and a creme-filled, squiggle-topped chocolate cupcake (a good version of the Hostess' classic but synthetic one), then caught a taxi to get back to the Smokeout hotel and pool for more fun.