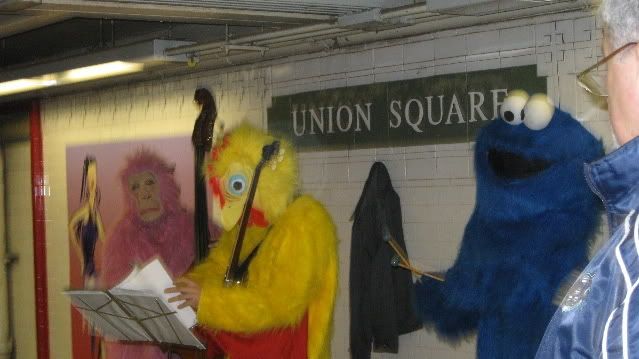 T H R E E F U R R I E S B U S K I N G F O R D O L L A R S
They were playing Raymong Scott- and Carl Stalling-type arrangements. Actually Cookie Monster on the xylophone was pretty good. The chicken was playing banjo. I'd describe them as The Nairobi Trio updated, only 98% of you wouldn't know what that means (although you could ask your parents). Hell, they were even before
my
time (the show ran before I was born), I only know of them because I'm cultured and they've been included in countless compilations of classic/best moments from television -- although I also vaguely remember that the act was reprised on The Ed Sullivan Show, watching that as a four-year old from the carpet in my pajamas.
NYC has all sorts of subterranean entertainers. Also popular is the guy who dances with a life-size puppet, and another guy who pushes a beat-up
upright piano
down into stations that have elevators and plays manic stride and ragtime. I'm also fond of the Mexican
corridos
bands who play in the subway cars, especially if they're properly decked out with cowboy hats and Mexican cowboy boots. And I've seen some amazing breakdancing utilizing the vertical and horizontal poles in the subway cars, too.