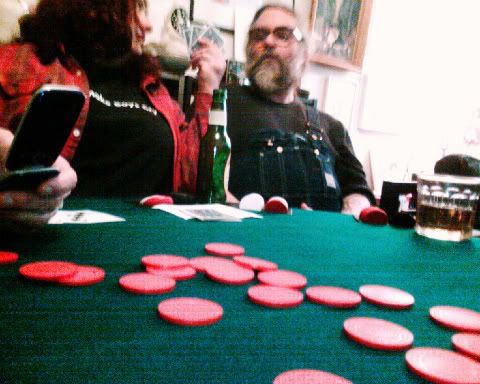 Friday
:
Monsters vs. Aliens
in 3-D. It doesn't live up to the studio's hype but is still a lot of fun. "Real 3-D" is great, super sharp, super bright, and super smooth and natural looking -- no headaches. Female heroine -- along with
Coraline
and
Bolt
, has the zeitgeist finally changed? Surprisingly adult, even more so than
The Incredibles
, and won't engage younger kids (even though parents take them to just about
anything
that's animated) -- the first twenty minutes of the movie is talky narrative before they get to the silly-looking monsters. And it doesn't have any of the sentimentality or heart that Pixar's films are known for. It'll do just fine, but won't be a huge hit.
Almost as good were the coming attractions. A new animated film I hadn't even heard of slated for fall with a great premise and an even better title,
Cloudy With a Chance of Meatballs
. The coming attraction for
Where the Wild Things Are
, will be interesting to see what Spike Jonez and Dave Eggers have done with it, and the wild things design by the Jim Henson Creature Shop looks great. And a new expanded/extended trailer for Pixar's
Up
-- you now realize that everything so far has just been a teaser, you won't believe what happens, and it just keeps getting better and better.
Saturday
: Finished my taxes.
Sunday
: Poker & cigars with six fellow LJers and a Jeopardy champion.
boymeat
was The Big Wiener. I lost $2.40 but not bad for an afternoon's entertainment and enjoyment. Afterwards we strolled in the fog down to Whiskey Sunday's and gorged on roast pig, BBQ'd ribs, and beef brisket, and really good beer and baked beans and collard greens and dirty rice and cheese biscuits and whipped sweet potatoes and potato salad and applesauce and banana pudding and chocolate cake with milk.