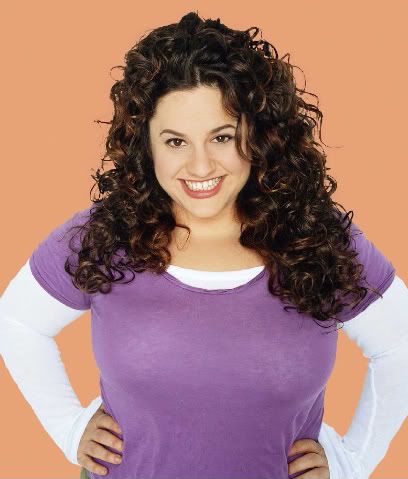 On my flight out to LAX I sat across from and one row behind a television producer, so I could see everything she was doing on her laptop.
So I can tell you that coming to a withering, on-life-support brain cell near you is a new reality-competition program called
Dance Your Ass Off
, which seeks to capitalize on two already highly popular programs,
Dancing With the Stars
and
Biggest Loser
, by combining them: fat contestants will attempt to lose weight through the process of learning and performing dance routines, which they're judged on after a live weigh-in.
But wait, there's more: the theme for the episode she was sequencing and editing was
Erotic Pole Dancing
. Contestants include both men and women. One of guys was quite woofy and totally nailed his twirl and striptease.
It premieres this summer on the Oxygen network. There aren't any pictures available on the web yet, so here's a photo of the show's host,
Marissa Jaret Winokur
, being attacked by a marauding gang of hair extensions. Marissa played Tracy Turnblad in the Broadway musical of Hairspray, and was a contestant herself on a past season of
Dancing With The Stars
.
Next up, I suppose, is
Celebrity Dance Your Ass Off
. 'Cause Louis Anderson needs a new gig. And Charlotte Rae could stand to drop a few pounds.
For you younger readers that are still choosing a career path, please note that television producers for Oxygen fly coach (although presumably so do CEOs of automobile companies these days).