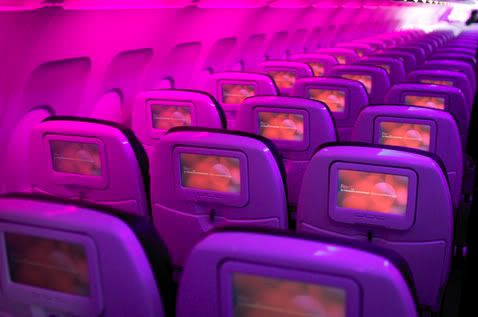 Flying out to and back from California on Virgin America was so much more pleasant than my recent trip on American Airlines. The seats are wider, plusher and leather, with a little more room from the seat in front of you, and more space in the cabin as well, so it doesn't feel claustrophobic.
The wide-screen touch-screen "entertainment systems" built into the seatback in front of you (and just when did "seatback" become a word?) are still buggy as hell (I think the term "wiggy" might be better), unpredictable as Windows 97, although don't freeze up quite as often as they did on my first flights, or take as long to reboot.
However, I totally
HATE
that all TV shows and free films (I haven't paid $8 for a recent movie yet) are still stretched and shown in incorrect aspect ratios. If I was one of the filmmakers or content creators I'd raise holy hell over this.
One thing I do enjoy is being able to select a musical playlist from about 2,500 cuts by about 250 artists, and the high-quality ear
phones
they have available for $2 (which now come in cool colors to match the soothing magenta and purple LED cabin lights). So I queued up and chilled transcontinentally to the following.
As you can see, my tastes are eclectic, populist, low brow, and hopelessly romantic.

ACROSS THE UNIVERSE SOUNDTRACK


ANIMAL HOUSE SOUNDTRACK


ARETHA FRANKLIN
THE BEACH BOYS

THE BEST OF SCHOOLHOUSE ROCK
BEYONCE
BILLIE HOLIDAY

BILLY JOEL


BOB DYLAN
BYE BYE BIRDIE OCR
COLDPLAY
DAVID BOWIE


DOLLY PARTON


DUKE ELLINGTON
ELLA FITZGERALD
ELTON JOHN

ELVIS PRESLEY


ETTA JAMES
FOR THE KIDS

PHILIP GLASS
JAMES BROWN
JENNIFER HUDSON
KRAFTWERK
LOUIS ARMSTRONG



THE MAGNETIC FIELDS





THE MUSIC MAN OCR


NINA SIMONE


O BROTHER WHERE ART THOU? SOUNDTRACK

THE ARTIST ONCE AGAIN KNOWN AS PRINCE


R.E.M.
RAY CHARLES
STEVE REICH
THE ROLLING STONES







STEVIE WONDER


THE PRODUCERS OCR


WICKED OCR




WILLIE NELSON



I Am the Walrus (Bono)
Strawberry Fields Forever
Hey Jude
Shama Lama Ding Dong
What a Wonderful World
Shout
Respect
God Only Knows
In My Room
Conjunction Junction
Single Ladies (Put a Ring on It)
You Go to My Head
My Man
You May Be Right
Just the Way You Are
New York State of Mind
Visions of Johana
The Telephone Hour
Viva la Vida
Heroes
Youg Americans
Changes
Where Do the Children Play
I Will Always Love You
Coat of Many Colors
Take the 'A' Train
Baby, It's Cold Outside
I Guess That's Why They Call It the Blues
Your Song
Can't Help Falling in Love
Are You Lonesome Tonight?
Love Me Tender
I'd Rather Go Blind
The Other Day I Met a Bear (Barenaked Ladies)
I'm a Believer (The Sippy Cups)
Freezing
I Got You (I Feel Good)
And I Am Telling You I'm Not Going
Trans Europe Express
What a Wonderful World
Honeysuckle Rose
Ain't Misbehavin'
Basin Street Blues
Drive On, Driver
Too Drunk to Dream
I Thought You Were My Boyfriend
I Wish I Had an Evil Twin
All My Little Words
Come Back From San Francisco
Marian the Librarian
Gary, Indiana
Till There Was You
Black is the Colow of My True Love's Hair
I Put a Spell on You
My Baby Just Cares for Me
You Are My Sunshine
Keep on the Sunny Side
U Got the Look
Raspberry Beret*
Delirious
Losing My Religion
Georgia on My Mind
Desert Music**
Start Me Up
Miss You
Angie
Sympathy for the Devil
Ruby Tuesday
(I Can't Get No) Satisfaction
Get Off of My Cloud
Time is on My Side
For Once in My Life
Isn't She Lovely
You Are the Sunshine of My Life
Keep it Gay
Springtime for Hitler
Prisoners of Love
Popular
I'm Not That Girl
Defying Gravity
Wonderful
For Good
A Song For You
Always on My Mind
The Rainbow Connection
__________
* which for years I truly believed he was singing about "Raspberry Parfait"
** yup, the entire 48:04 composition