Here's something you likely don't know about me: I don't own a single piece of green clothing. Not even on a tie or cap, and I've never flagged the daddy hankie (if my pipe, belly, and all my gray hair don't advertise daddy, a hankie's not going to help). It's just a color I've never liked or think I look good in. But get back to me on St. Smurf's Day, and I'll totally rock the photo meme.
Anyhow, last Friday I was resigned to going home and doing some housecleaning and laundry even though I felt pretty shitty from a rough week at work, and still fighting off a sore throat and cough that had stuck around so long I was worrying it might be strep. But in the late afternoon a friend called and asked if I was up for a movie. Hell, he could have asked if I wanted to come over and help him clean his catbox, anything to get out of doing
my
chores.
Unfortunately, there wasn't a lot of the current releases I wanted to see. After the nearly three-hour buttnumber known as
Watchmen
the previous weekend, I knew I couldn't take
Benjamin Button
. After eliminating all the Seen Its and I'd Rather Have Root Canals, the acclaimed "animated documentary"
Waltzing With Bashir
about Israel-Lebanon war atrocities came to the forefront, which was playing at The Sunshine.
The best part of movies at The Sunshine – besides being one of the nicest and best-run arthouses in the city – is the opportunity to eat at either the Turkish meat-on-a-sticklicious Bereket, or the classic Jewish deli Katz's, purveyor of the finest pastrami sandwich in all of New York
for more than 100 years
. We chose Katz's. Just as my friend Peter and I are digging into our pastrami sandwiches, dill pickles, and potato latkes, who should walk in but
naylandblake
and
lolitasir
.
There are eight million people in the city and tens of thousands of restaurants, so this sort of thing doesn't happen very often. We wave them over and have them join us at our table. And Lolita's wearing her fabulous new
"I killed Cookie Monster" fur coat!
They're in the neighborhood to get tattoos. We talk about all sorts of things before Peter and I have to make a quick getaway for our movie.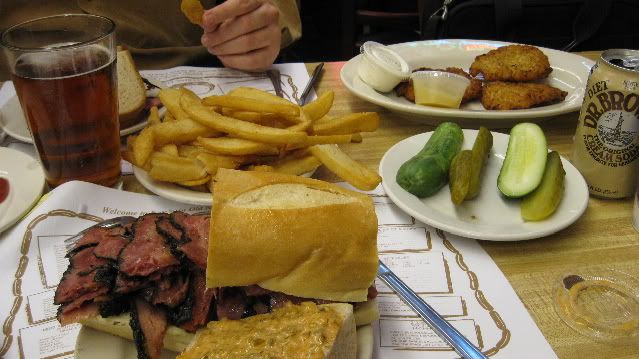 That's me spreading the Russian dressing thick. Yeah, I got mine on a roll instead of the traditional rye bread, since they lay on about ¾ of a pound of pastrami, I prefer a better bread-to-meat ratio.
This close-up of the decaying cellophane tape almost makes you lose your appetite, but seen in context with all the framed photos of celebrities on the wall, it adds the expected character to a place that's considered one of New York's historic treasures stretching back to when the Lower East Side teemed with Jewish immigrants.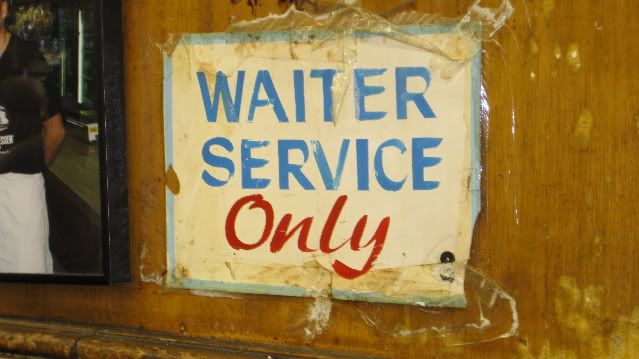 After the movie we gave Nayland and Lolita a call, they were still in the neighborhood after getting their tattoos, relaxing at a table at a health food café, sharing an unhealthy moon pie. We stopped by to chat (and to help them finish the moon pie) and upon parting for the night I snapped this picture. Lolita's making a puss face as my Aunt Ida* would say, she leads such a glamorous life I guess she was tired of all the paparazzi that night.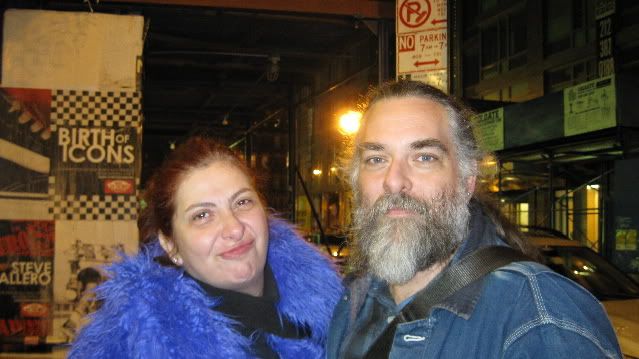 *actually I don't have an Aunt Ida, but I bet Lolita does. And just wait 'til she sees her new tattoo!