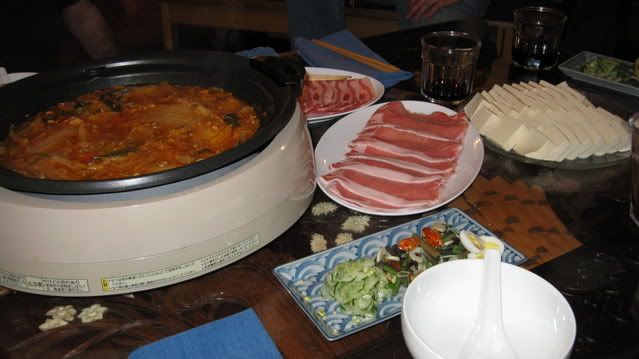 I was invited to a dinner party this weekend by my friends Kaz and George, who I was introduced to by LJ buds Mark/
bikerbearmark
and John/
subwoofr
(who have since forsaken LJ for the brevity of twitter). They live in a lovely two-floor penthouse in a Hell's Kitchen walk-up, partially in the Japanese style, so check your boots at the door.
They're both
serious
techie bears with every shiny device known to man, including every version of Sony's Reader and Amazon's Kindle which got pulled out to compare, so it was fun to get to handle and explore the latest Kindle, which is kinda cool but not for late-adopter me, at least until it becomes a lot more multifunctional, smarter, and with a color display (the b&w is fine if you're a heavy reader of books, but most of the magazines I read are well illustrated). So get back to me with the MaxiKindle3000 in 2014 or so. I'd probably feel differently if I had a longer commute, but right now I'm 25 minutes door-to-door, and 40 minutes if I walk it, which I do in the spring and fall.
The menu was eclectic and delicious. We started with some
great
versions of Greek/Mediterranean appetizers, then moved on to a Korean hot pot, the spiciness of which I think helped drive some of my cold demons away. The side salads were Japanese, one was cucumber shaved paper-thin, marinated in gin, and tossed with crushed wasabi peas. The other had strange Japanese "mountain vegetables" – one of which, sliced, looked disturbingly like Dr. Scholl's Corn Pads – that no one could identify by name, with enoki mushrooms and garnished with quail eggs and (winner of the strangest ingredient of the evening) croutons of candied whole baby crabs. With this we consumed several bottles of wine (my contribution), and finished with an American chocolate cake with buttercream frosting.
Kaz, a veteran of 13 years with Microsoft, had some hilarious stories about and even impersonations of Bill Gates, who he had given several presentations to in his tenure there. The conversation was wide-ranging on all sorts of subjects, including show-and-tells about the merits of Japanese underwear, and a comparison of different lockable ball weights.
It was a delightful evening. My current apartment reached critical mass several years ago with about 5,000 books and too much other media (and I won't say too many boots and too much gear, but they do take up a
lot
of room). My next apartment will be large enough to be able to entertain in again.