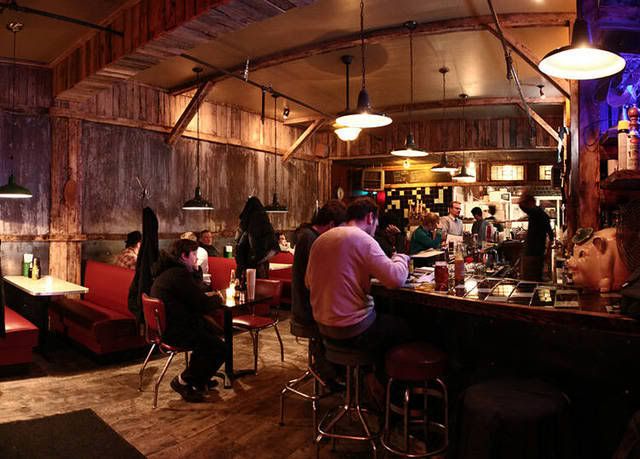 Another reason to be jealous of
naylandblake
: a new BBQ joint opened up a few blocks from his house, and it's
really good
. He invited
lolitasir
and me out this last weekend to try
Whiskey Sunday's
out between preparing taxes and the Oscars.
Like Hill Country, they sell their rubbed-and-smoked meats by the pound, but at prices a lot cheaper than Manhattan places: $7 buys you half a pound of ribs or brisket. The wide variety of sides top out at $4, and easily serve two. We also loved the service. The restaurant has already addressed the expensive beers they were slammed for in their early online reviews, and since it was Lolita's and my first visit there, we asked the waitress how the coleslaw and potato salad were prepared, since there are a lot of varieties of those. She brought over small servings of each to sample, and both were excellent versions of their dish.
Nayland had a huge pile of ribs, Lolita, oy, had the brisket, and I chose the pulled pork sandwich with pineapple slaw, which came out on
twin
brioche rolls! All of the sides we had were delicious: collard greens, whipped sweet potatoes, baked beans (with lots of chopped-up "burnt ends" folded in), dirty rice, and cheddar cheese biscuits. They have three BBQ sauces on each table: a mustard-based one, a classic American molasses-based one, and a nicely hot one, an unusual but totally delicious blueberry-habanero mash-up.
We were so hungry all three of us shutterbugs didn't even pull out our cameras, but dug into the food. But here's a photo of the place I found online.
Check out Whiskey Sunday's if you get out to the Prospect Park area of Brooklyn. It's worth the $4 in subway fares even if you're not – the highest praise possible from a NYC island dweller.
The inspiration for this post is that I'll be eating the leftovers for lunch today. I can't put it away like I used to – actually I can, but I sometimes choose not to. But I also didn't want to go into a coma during the Oscars later.
Nom nom nom. Om.