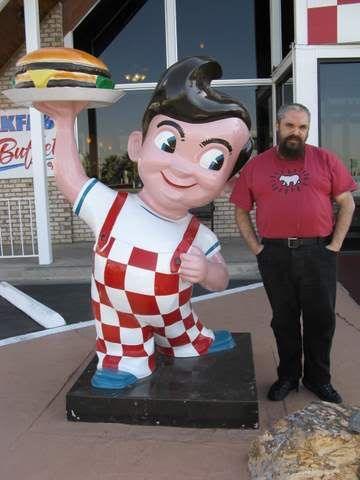 I'm going to be posting some family holiday snapshots, 'cause it's my journal and not yours. Feel free to scroll on by.
This was taken at a Bob's Big Boy at some stupid desert rest stop between Orange County and Las Vegas next to an almost-vacated failed outlet store mall. I'm not a happy camper 'cause this was taken after our lunch there, and it was pretty bad. I hadn't eaten at a Bob's Big Boy since I was a teenager, and I was looking forward to it, remembering how good their classic burgers and fries were. It was a far cry from the burgers of my youth and memory. It wasn't at all juicy, it wasn't even very hot. The fries were meh, and the service was bad, even though they weren't all that busy.
I'd like to think this was an anomaly, and perhaps it was in part because of the location, but I think the chain has made significant cutbacks over the years in the quality and size of the beef patties and other menu items. Of course, when I was growing up eating out was a big deal, a treat, and maybe that's colored my memory a little. But it was still a mediocre meal.