I meant to post about this before the Oscars, but sometimes real life gets in the way of its documentation.
Last Thursday I went with
uncle_dan_nyc
and
danbearnyc
to see a special theatrical presentation of all the Oscar-nominated animation shorts. (We had Chinese beforehand, and I
so
wanted there to be Dan Dan Noodles on the menu, but I had to settle for Singapore Dry-Fried.)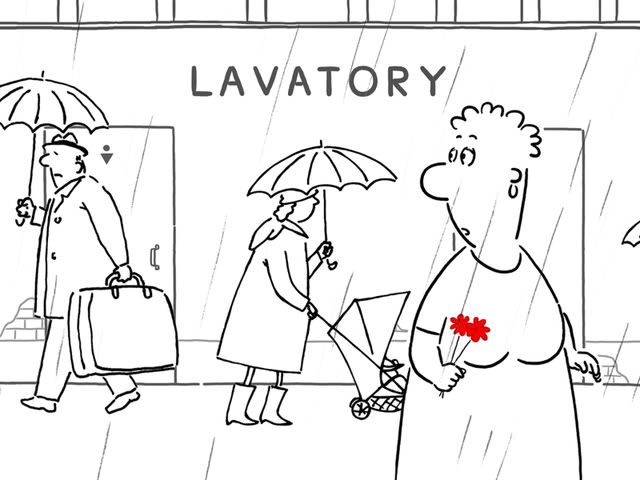 And since I saw them and you didn't, I correctly predicted the winner,
La Maison en Petits Cubes
from Japan. All of the animated shorts were great, but three were cartoons, and
La Maison
was a longer, more serious piece that took advantage of its artistic medium. It was also about warm and sad and fuzzy themes that the Oscar voters reward, like
loss
and
memory
.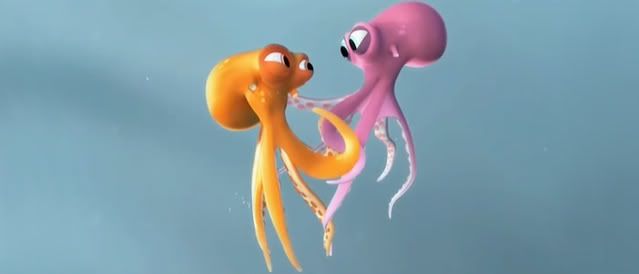 The collection also included five other pieces of outstanding animation from the past year to fill the program out to a full 90-minutes. All of the pieces were outstanding, and highlighted the global nature of the medium: the Russian one in look and theme seemed more English, the Japanese one looked like it was French or middel-European, and not just because of its title. One from France looked like it was set in Greece. And something I didn't notice until later in the evening when we got our first dialog in a date comedy between a polar bear and a penguin, none of the five nominated shorts had any dialog whatsoever – each a really wonderful achievement in visual storytelling.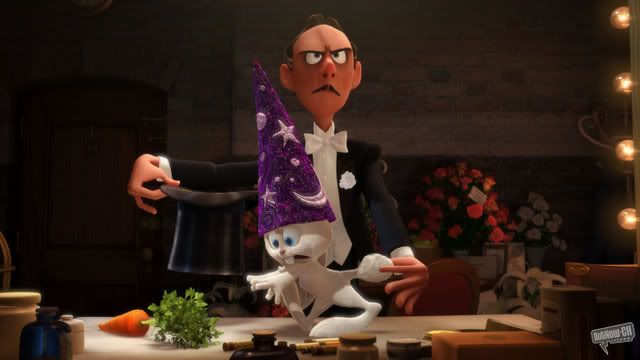 The other nominees:
Lavatory - Lovestory
is a sweet story of a men's washroom attendant finding romance in a back stall.
Oktapodi
is two minutes long, but contains more action than most longer works, a furiously-paced slapstick cartoon, one continuous chase/fight scene and romance between two octopi and a chef. It was the audience favorite.
Presto
, from Pixar (which you've seen if you went to see
WALL-E
in a theater), a piece of escalating and rather sadistic slapstick (we don't own Bugs Bunny but want to do a Bugs Bunny cartoon). And
This Way Up
, two morbid morticians have problems getting a body to its final resting place, delightfully inventive with its premise, and also a favorite with the audience.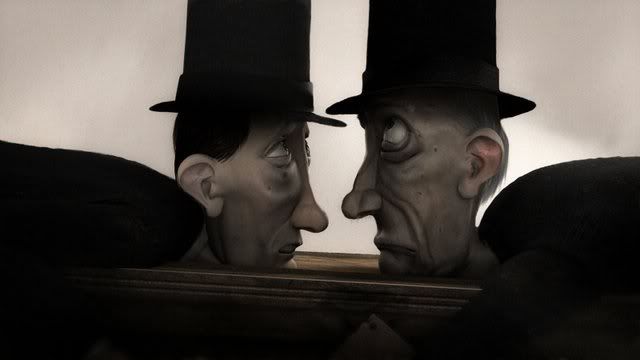 All of the shorts are available through iTunes.
You can also see most or all of
La Maison en Petits Cubes
right now on low-res YouTube, (
http://www.youtube.com/watch?v=4IZyoE1sg7k
among others), although these will probably be taken down any minute now.
And you can also view Oktapodi here,
http://dekku.blogspot.com/2008/08/oktapodi.html
, and possibly also at its official site:
http://www.oktapodi.com/film.html
And you
may
(I can't confirm right now at work) be able to view
Presto
here,
http://www.itsartmag.com/forum/viewtopic.php?f=27&t=1487
However, the animation program has been held over at the
IFC Center
(at least through this Wednesday), and if you're in or anywhere near NYC, I'd highly recommend going to see them there. IFC has grown to be one of the nicest theaters in the city (or anywhere I've been): attentive and freindly staff, organic popcorn with
real butter
, and a café. Previously the features I've gone there to see have always been in the large theater, this time we were upstairs in one of the smaller theaters (140 seats), which had the intimacy and comfort of a screening room (big, well-padded reclining seats), but still had a huge screen. No loud preshow crammed with ads, just a well-produced silent montage of other films and special events at IFC, past and future. The animation program was projected in high def video, perfectly framed and properly cropped on all sides.
They even sell hard-to-find foreign, indie, and cult videos in the lobby (such as
Eraserhead 2000
, David Lynch's meticulous frame-by-frame restoration of his first feature). They also had these
totally cool "Cinemetal" T-shirts
, which I think are effin' brilliant mash-ups: