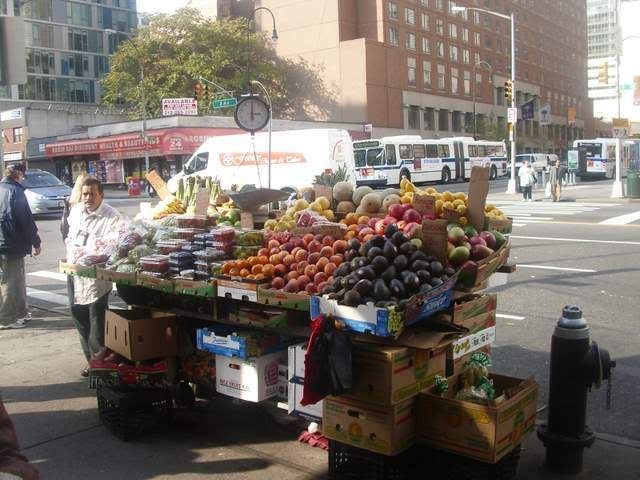 This is how a lot of Manhattan city dwellers (and workers) buy their fruit, and other produce. We still buy them the old-fashioned way, from pushcarts.
The produce is often a better quality and a lot cheaper than that from the supermarket.
The city used to have a lot of greengrocers – also called Korean grocers, since they were often owned and staffed by immigrants from there – but with rising retail rents many of those are now nail salons, Starbucks, drug stores, and bank branches.
This pushcart, just down the block from my apartment building, is now there and operated
24 hours a day
, which totally delights me, knowing I can buy fresh fruit in the middle of the night – and I sometimes do, coming home late from a night out on the town with friends.
That hulking building in the background is an NYU dorm. Before that it was the Palladium nightclub, which everybody in the neighborhood totally
hated
. Tammany Hall, an important and powerful political headquarters, is still standing just a few blocks away. The building now houses a film school and an off-Broadway theater. Vaudeville is believed to have started in a theater across the street, which is now a parking lot for the Con Ed building. Decades prior to that the block was the site of the city's opera house! Our neighborhood at one time was the "white glove," cultural district of the city.
By the way, speeding cars being chased by other speeding cars do not run into these fruit pushcarts nearly as often as old movies and cartoons might lead you to believe.