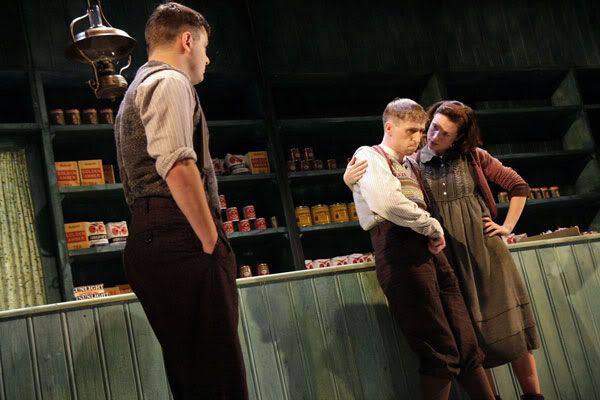 In the winter all the tourists disappear and it's possible to get discounts to almost any show running. In addition, the
20 at 20
promotion is back for a selection of off-Broadway productions: for the next two weeks, any seats still remaining 20 minutes before the curtain are sold for $20 each.
There's the expected populist/tourist-friendly productions that rarely sell out (
Stomp, Naked Boys Singing!, Awesome 80s Prom
), but there's all sorts of other offerings, too: family theater, new musicals, even some experimental, avant-garde stuff. Many of these are in previews, so they are somewhat unknown quantities – still, it's a great deal for many of these productions. Here's an annotated selection of some of the offerings:
ARCHITECTING
Architecting is an exhilarating saga that weaves through past and future to create a requiem for modern America. A collision of horses, sex and hoop skirts, burning plantations and nasty hurricanes, this musical, time-bending, multi-media epic rockets between reconstructions, real and imagined, of citizens and nations.
At P.S. 122 – which means experimental/avant-garde.
ARISTOCRATS
One of the most distinctive voices in contemporary Irish theater, master storyteller Brian Friel (Dancing at Lughnasa) is at the top of his form with this touching story of a once powerful and aristocratic family in its days of decline.
Presented by Irish Rep.
EMILE'S VOLTAIRE
Set during the French Enlightenment, Emilie's Voltaire chronicles the volcanic, law-breaking, sexually-driven, intellectually-fuelled, sixteen-year love affair between Francois-Marie Arouet (Voltaire) and Gabrielle Emilie Le Tonnelier de Breteuil, Marquise du Chatelet.
FORBIDDEN BROADWAY
The forever-running
Forbidden Broadway
is always a lot of fun, it's truly NYC's counterpart to San Francisco's
Beach Blanket Babylon
, minus the giant hats and wigs, and with more theater jokes thrown in.
FRESHWATER
Virginia Woolf's only play – and a comedy at that!
FUERZA BRUTA
Environmental/rave theater by the creators of
De la Guarda
.
SESSIONS
A new musical – about psychotherapy!
THIS BEAUTIFUL CITY
From the highly respected Vineyard Theater, a new collaborative work (in the style of
The Laramie Project
) about the evangelical Christian movement and the Ted Haggard scandal, the preacher who was caught doing meth with gay hustlers.
The production I'm most interested in is the Atlantic Theater Company's presentation of Martin McDonagh's black comedy
THE CRIPPLE OF INISHMAAN
. If you don't know who McDonagh is, a little background: He also wrote
The Beauty Queen of Leenane, The Lonesome West
, and
The Pillowman
. A couple years ago I was fortunate to see with Gerry/
niagarabear
his black comedy about Irish terrorists,
The Lieutenant of Inishmore
. It was an audacious piece of both playwriting and production, not just because the play includes violent Tarantino-style shootouts and torture and dismemberment with buckets of blood on stage, but also because the play features
a trained cat
(and if you've ever tried to train your cat to do
anything
you know how impressive this is). He was a theatrical
wunderkind
, having written most of his plays that were produced in London and on Broadway and won major awards all before the age of 30. After his fifth play, he decided to set playwriting aside and try his hand with film. His very first effort, a short narrative film titled
Six Shooter
, not only was nominated but won the Oscar for Best Live Action Short Film. His first feature film, last year's
In Bruges
, was also just nominated for Best Original Screenplay. This is a revival of one of his early plays, has received
excellent reviews
, and its run has been extended at the Atlantic Theatre Comnpany.
Is anyone interested in going with me to see
THE CRIPPLE OF INISHMAAN
? I think a Tuesday, Wednesday, or Thursday night performance would give us the best chances at the $20 seats.