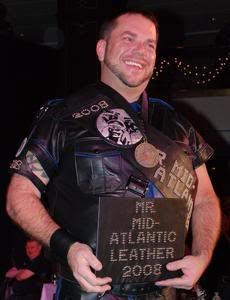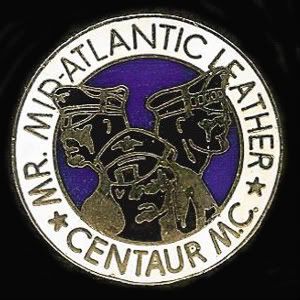 Chris Grasso, Mr. Mid Atlantic Leather 2008
One of his last official duties is to be head judge
for his successor, and it was fun working with him.
He gave a great step-down presentation at this weekend's contest.
THURSDAY:•
The Mysteries of the Couch Cushions Reveal: My wristwatch, missing for a week.
•
Getting to D.C. by bus almost total
FAIL
: running six hours behind schedule, largely due to staying late at work the night before and needing a little something called
sleep
.
•
Taxis (yes, taxi
s
) crosstown to bus cost more than budget bus to D.C.
•
Megabus (.com) pretty cool. Double-decker, table seats. Most people sleeping. Except when we stopped in Baltimore and both doors were opened. Bus almost immediately lost all heat pressurization and became almost as cold as single digits outside.
•
Woman missed getting off at Baltimore, cried and begs driver to go back, who of course has to press on to D.C.
•
A billboard in Baltimore informs: Welcome to Baltimore, Home of UnderArmour. I did not know that.
•
A rest stop would have been nice. Toilet on board, but did not realize there'd be no stops (Greyhound does) and neglected to bring water. Dehydrating.
•
New cell phone arrived just hours before I left, and it (
finally!
) activated itself while I was fiddling with the camera. Overfeatured with a lot of dubious and unnecessary options, but of course no way to bring over names & numbers from old phone, even though it's with same service provider and from same phone manufacturer.
#nay
, as
theoctothorpe
is always twittering. Oh well, something for the slave to do.
•
Phone camera picture quality pretty good for a compact spy camera circa 1927.
•
New product review: Kraft Macaroni & Cheese Crackers, cheese crackers in the shape of elbow noodles: Yuck, Ick, Poo. Do Not Want / Should Not Have Bought but wanted to try. Thankfully it was only a 50¢/1 oz. bag.
•
Thursday night in the lobby at MAL: Steve from S.F., Chris/
bullneck
and his awesome Oakleys, Dave Rhodes of
The Leather Journal
, and
lthrfan
and
txbearwood
, both from Dallas.
•
I'm liking the hotel: spacious room, enough pillows without asking for extras, shower temperature that doesn't fluctuate, ice machine on every floor, bacon properly crisp as ordered from room service. Fairly simple things, but it's surprising how many hotels, both lux and budget, can't even get these things right.
•
Up until 4:00 am (doing what one does at leather weekends).
FRIDAY:•
High of 17° degrees out. Entire hotel and most of commercial D.C. non-smoking, and no "smoking tent" off the lobby as in years past, probably because of astronomical prices of anything party rental on inauguration weekend. Looks like I may have to give up pipes and cigars for the weekend. I'll have to make up for it at Smokeout.
•
The leather punk with the 6" gelled mohawk in the restaurant smells of coconut oil.
•
What the young kids are wearing at MAL: less leather, more skinhead and MX gear. Lotsa tats and muscles.
•
Also ran into at MAL:
fj
in from Europe, Matt/
badfaggot
, Pete/
quirkstreet
(forgot how tall he is!), Ian/
bear_left
, Scott/
sirpupnyc
, Robert/
bugsylikesoscar
, and many others I'm already forgetting, being introduced to so many new faces and friends of friends.
SATURDAY:•
The Centaurs run a well-oiled machine and throw a great party. As a judge I get a special perspective on just how well organized and smoothly everything runs.
•
All of us judges are impressed, the caliber of the six contestants very high. Our job will actually be more difficult in picking a winner.
•
The judges talked with one of the contestants about Stonewall, and how gay people and gay bars were treated by the police years ago. I observed later that I was sitting between two gay cops on the judges' panel, Jim Plante from D.C. and Lenny Broberg from San Francisco. How times change!
•
I think I'm in
love
lust
in need of a couple of Kleenex. While breaking for lunch during judging, I had a view in the restaurant of the beariest bear in beardom, a breathtakingly massive silver bear
almost
as wide as he is tall. I saw him again at Leather Cocktails with eleven Delta run patches on his vest (and a few Inferno ones), and he presented the Delta colors during the Parade of Colors, so that was enough info for me to
cyberstalk
find him on Recon.
•
The Leather Cocktails portion of the weekend is especially classy, maybe not surprising in that the weekend grew out of the formal cocktail party, not the contest. The Centaurs MC is 39 years old, the Leather Cocktails 35, and the contest 25.
•
All the arrivals to Leather Cocktails in the first 20-30 minutes are greeted by a gauntlet of the full membership of The Centaurs applauding, as they exit the elevator and walk down the staircases into the ballroom. I felt like I was at The Oscars!
•
Generous amounts of catered food (including a boatload of large shrimp) that doesn't run out in the first twenty minutes or even the first hour and a half. "High leather" makes for a lot of eye candy. Large number of uniforms and kilts (both traditional and leather), but I have to say the traditional full leather still looks best. Most transgressive outfit: U.S. Marine dress blues, but with the back of the jacket modified with an inset of the leather pride flag running down the back.
•
I was a little underdressed for Cocktails and the contest: full leather, but with a T-shirt. Restricted to only one 50# suitcase, I realized I could bring uniforms and more leather clothing or gear for this weekend, and gear won out. I brought three pairs of boots, leather breeches and leather pants, and the Langlitz jacket, but with all the other heavy metal and rubber gear, I had to leave the uniforms and additional leather clothing at home. No regrets: I made
very
good use of the gear.
SUNDAY:•
Pre-contest brunch at a table with Daddy Wendell, husband of the current International Ms. Leather and fellow judge, Hobbit. We talked about everything from action shooting to making leather gear to MS OS deficiencies to opera – what a fascinating man.
•
At IML I got to work with Frank Nowicki the judge, but at MAL I finally got to experience
Frank Nowicki, The Legend
, past Mr. Mid-Atlantic Leather and the brilliant and beloved perennial MC for the event.
•
File under ironic: While Gary Iriza, current International Mr. Leather (and fellow judge) was giving his speech at the contest, a cell phone at the judges' table went off. It was Gary's own phone, disrupting his own speech. When it rang a second time, I tried to muffle it by covering it with my gloves and Muir cap, and the judges could barely contain themselves.
•
Kathy Najimy,
speaker
and entertainer for the contest, totally rocked. Two standing ovations! She wrote a lot of special material just for MAL and the crowd, and came back for some extemporaneous fun with the contestants as well. A lot of people called out diva (the good kind, like Cher), but I think she's a
goddess
.
•
Another reason MAL is so classy: the winner and runners-up get a shitload of prizes, since they have all the vendors and sponsors contribute something.
•
Strangest combination of fetishes in the lobby: a guy in football pads and uniform with prosthetic horses' hooves on his feet. I didn't get a chance to see if the back of his jersey said
MUSTANGS
on it.
MONDAY:•
Decided to leave town early. Wasn't sure so kept my options open by buying refundable bus tickets for both days. But no locals encouraged me to stay, and most recommended that I get out of town as soon as possible. The madness started Sunday morning, with traffic and crowds and police and National Guard. The deciding factor was that I would have had to get up at 4:30 in the morning to get someplace by 6:00 and stand around for 6 hours in 25° weather just for the chance of a glimpse of the parade, so I decided to come on home and watch the Inauguration on TV like everyone else.
•
Snow all the way from Baltimore to NYC, but highway was pretty empty so we still made good time. Two inches on the ground in NYC, but in such a warm city, it melts fast.
It was an honor and a privilege to be able to serve the community at MAL, and I'm grateful to The Centaurs for the opportunity to do so for the contest's 25th anniversary year. I got to make several new friends, and see a lot of old ones, and help choose a new leader and fundraiser for the community. I hope Mr. Mid-Atlantic Leather 2009, Kip Hollar, has as great of a time during his year of service.