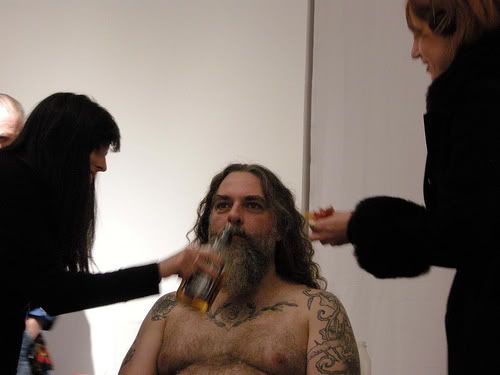 Performance photos by
viviane212. Thanks, Viviane!
Friday night I went to see
naylandblake
's peformance art entitled
Gorge
.
I knew and liked a great deal Nayland Blake's art years before I ever met and became friends with Nayland Blake, but this was the first time I was able to see one of his performances live.
The piece's structure is pretty simple and straightforward: the artist sits in the gallery, shirtless, next to a table full of food, as well as a kitchen timer and a sign that reads,
PLEASE FEED
. The audience is invited to feed the artist, by hand, for a period of one hour.
The piece's meaning, as is a lot of modern art, is more oblique – it's meant to be thought about, not "solved." Two dynamics that came to my mind were
care
and
consumption
.
angeltatts
posted a very thoughtful piece about his participation/interaction with
Gorge
, check it out. (Phil/
boymeat
also did a fun LiveTwit of the event, which you can read here (it runs backwards):
http://twitter.com/boymeat
)
There were at least 120 people who attended, crammed into a corner of the gallery. As a number of people later commented, the performance piece in some ways was as much about the audience as it was about the artist. At first the room was hushed and reverent as if we were at a religious service, later it started becoming more playful in tone.
Nayland assumed a good deal of control by seeming to be in a meditative state, staring straight ahead, not engaging with the audience, not opening his mouth (you had to
feed
him, pushing the food in, not just hold it out for him), and chewing slowly and thoroughly. Almost all of the feeders were hesitant or polite or playful.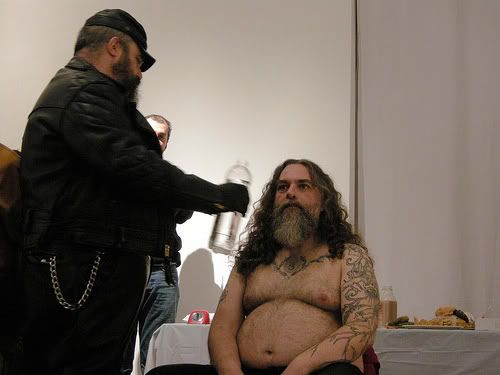 First some water…
One participant – the curator of his show – sat on his lap while feeding him. I decided to be more intimate, too. I first gave him some water to clear his palate (the food ranged from crackers to donuts to pickles to raw veggies to pizza to clementines to shrimp with cocktail sauce!) Then I bit into two strawberries, chewed them, and fed him the masticated strawberries mouth-to-mouth, finishing off by kissing him.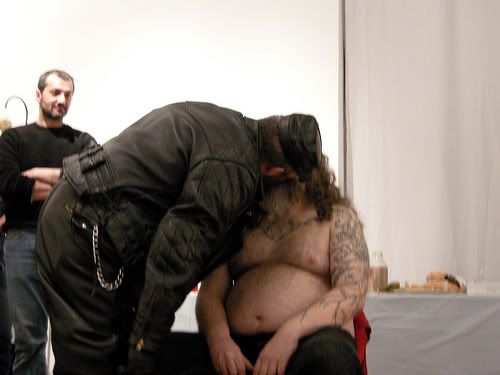 Then some strawberries.
Afterwards, there was a break, and later in the evening was
Misbehavior
, one in a series of artists' salons where Nayland invited writers and other artists to read and perform work in response to Nayland's retrospective show. One person read poems, prose, and journal entries, one gave a performance piece, and another played music and sang songs. The best, and most moving contribution was by a fellow artist who joked that she was, in turn, going to outsource the task by getting other artists to give their responses to Nayland's work.
Actually what she did was organize a field trip by a group of NYC high school art students to come in and see the show, choose a piece that they liked or that intrigued them, discuss why they chose it, and draw their reaction to it, all documented with photographs and the drawings and interviews, then edited together as a slideshow with soundtrack.
Here was a group of young city kids – many of them black – confronting and interacting with these sometimes mysterious and perplexing examples of contemporary art, the same age Nayland was when he was growing up in NYC and going to see art shows down in SoHo. As someone else commented later, these were his "grandstudents," and you know that this experience would be important and perhaps even pivotal to at least one of these kids later in their life.
I loved the reaction of one girl, who chose the gold bunny suit. "I love this piece because… because it's
gold
, and it's a
bunny
," she said, leveling in just a few honest words reams of high-falutin' art criticism. You can't get much more honest than that when it comes to art appreciation.
At the end of the evening, I was fortunate to join Nayland, his curator Maura Reilly, along with
dominicvine
,
lolitasir
, and Kerry/
rogueboi
for drinks and, yes, a late-night repast at a classic SoHo bistro, Lucky Strike, around the corner from the gallery. Although it has been a mainstay in SoHo for decades, I had never been there, and was delighted at its perfect
bistro
ness (menu written on all the mirrors lining the walls, low lights, glamorous crowd) and how well-executed the classic dishes were. Our party lucked into the power table in the center of the room, toasted to Nayland's art, and enjoyed lively conversation late into the night.
Finally, we paid the check, said our goodbyes, and hailed cabs. I felt very much the sophisticated New Yorker.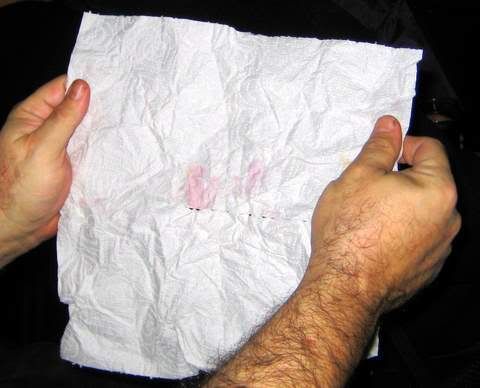 I kept the "documentation" of my participation.
I call it "Feeding Nayland" (2009, 12" x 12", paper and strawberry juice)
Think I can get $200 for it?
(photo by
lolitasir)
Nayland's retrospective show continues at Location One through February 14. A final Misbehavior is scheduled for Saturday, Feb 7. And a 150-catalog, with discussion by Nayland and Maura of each work included in the show, is forthcoming.