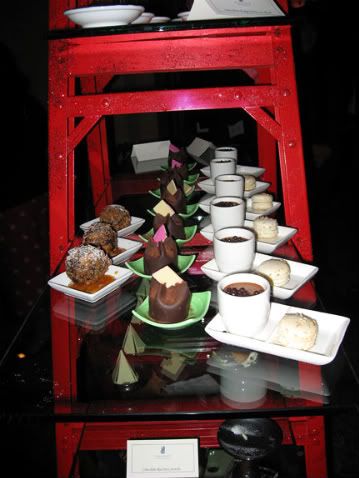 I am
so
tempted by this. I'm hoping another
glutton
gourmand on my friends list will want to do this too and twist my arm.
Next month the Ritz-Carlton is offering
A Carnival of Chocolate
, an all-you-can-eat chocolate dessert buffet with dozens of offerings. It also includes all the champagne you care to drink. The price is $75 per person
including
tax and tip, which is a far better value than attending the New York Chocolate Show (and without its rush-hour-subway-like crush of far too many people jockeying for samples).
Friday and Saturday nights in February only, two seatings at 7:30 and 9:30 p.m.
Here's the full menu, prepared by Pastry Chef Laurent Richard:
Warm Chocolate Waffles a la minute, banana ice cream
Chocolate Raider Bar
Buttery Chocolate Streusel Napoleon
Intense Bitter Chocolate Square, sesame cream
Chocolate "Sliders"
Chocolate Ganache Tower
Chocolate Financier, caramel fudge
Orange & Raspberry "Martini", chocolate sabayon
Milk Chocolate Peanut Butter Tart
Extra-dark Black Forest Griotine Cake, cherry liqueur
Nutella Crepe, Grand Marnier sauce
Pistachio & Chocolate Pot de Crème, macaroon & mignardises
Valrhona Chocolate covered Strawberry
Fluffy Chocolate chip Marshmallow
Chocolate Rice Crispy Treat
Chocolate & Caramel Covered Apple
Chocolate Biscotti
French mocha Macaroon
Dark Chocolate Cognac Truffle
Chocolate Drizzled Popcorn
Candied Chocolate Orange
Chocolate Coconut Bonbon
Chocolate Nougat "Montelimar Style"