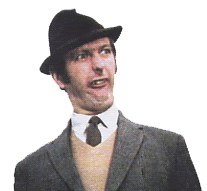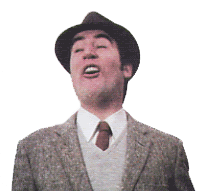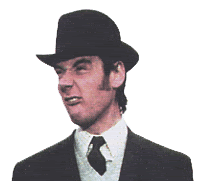 …so I was googling a phone number I had scribbled down without a name. Got the friend ID'd and one of the top returns was his Twitter page. So… I clicked through, and was surprised that the site isn't blocked here at work, as are most blogging and social networking sites. So I signed up for an account. Not really sure what I'm doing there, or if I'll stick around, especially because I'm not a big phone/PDA texter.
And like a lot of people I'm not even sure what the purpose of Twitter is, with the exception of making it easier for your stalkers to find you. I've joked that it's a blog for people who can't write complete paragraphs. It's text only, 140 characters max, no HTML, not even bold, so I've reverted to SHOUTING in caps. Although people have already devised ways of linking to photos and websites through a heavy use of tinyurls. Still, even with these limitations, I've already been friended by commercial blogs that attempt to use Twitter to attract traffic to their websites.
If in our brave new hyperbusy, always-on/stay-connected, virtual-is-real lives Twitter is the blog of the future, I suppose the next step is simply a further reduction down to a status "page" of just your current emoticon.
Anyhow, here's my first week of tweets from Twitter… which I guess makes me a twit.
► Oh god... I drank the Kool-Ade.... I honestly thought this would be blocked from work.
► wonderful lunch: grilled artichokes and prime rib French dip sandwich at Houston's with Victor Terry, porn writer.
► tonight: dinner, cult movie BRICK, followed by cigars & leather at The Eagle, all with Ed & Jeff visiting from Durham
► shopping! comic books and cigars (gifts)! DVDs! cashews to make Chex Mix! pecan caramel corn! secret gift for friend here! cookies! WHEE!!!!
►...so Twitter crashes Safari 1.3.2 on OS 10.3.9 on my classic/vintage/antique/ancient/fossil iBook. which may get me to use Firefox more.
► off to Brooklyn for laundry party with Nayland.
► especially yummy dinner of fresh guacamole, chicken enchiladas mole, and grilled corn on the cob with chile butter @ cafe enduro in brooklyn
► up too late making Chex Mix for tomorrow's party
► movie reviews: THE WRESTLER **** (out of 4), SLUMDOG MILLIONAIRE **** - both have lots of jittery camerawork, don't sit too close!
► wonderful holiday party at nayland's. my meatloaf sliders were a huge hit!
► Resolutions I can keep: throw out catsup packets before catsup inside turns black. Out with the duck sauce and soy sauce packets, too!
► I hate insomnia. I love going back to bed / back to sleep. I love sleeping in late - on weekends. I hate being late to work. But I often am.
► YOU'RE NOT THE BOSS OF ME! Actually, you are. Entire office scrambling for new reporting demands of Fed in wake of bailout. My head hurts.
► To-dos for the last day of the year: Clear my desk. Tip building staff. Gorge on tacos. Curl up with a couple of good movies.
► REALLY, peoples, how HARD is it to make a proper fried egg-bacon-cheese sandwich? The trouble is now I'm obsessed about getting a GOOD one.
► OMG, Buffy! New taste treat: Zaro's takes a plain bagel, dusts it with cinnamon and rolls it in coarse sugar before baking. *chewgasm*
► New Year's dinner at Grand Sichuan: Dan Dan Noodles, Soup Dumplings, Dry-Fried Green Beans, Ma Po Tofu, Pea Shoots, Kung Bao Potato (!)
► Feel like shit today. Not a great start to the new year.